Man Stomps 8 Week Old Puppy to Death
Saturday, May 17th, 2008 at 9:01 am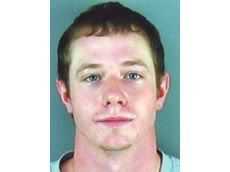 We got us another big, bad man here! Timothy Ray Loftis, 21, of Bessemer City, NC, stomped a tiny 8 week old Chihuahua puppy to death after it urinated in the house. Oh yeah, he's a tough guy alright!
Loftis' girlfriend, Crystal Williams had gotten the puppy for her 1 1/2 year old daughter, they named it Tequilla. It was so tiny it could fit in the palm of a person's hand
On Thursday, Williams went running to her mother saying that Loftis had killed the tiny puppy. Williams' mother, Sherry Thomas confronted Loftis.
"I said 'Timmy, why would you do something like that? You knew she loved that dog,'" Thomas said.
"Its eyeball was hanging from its head," Thomas said. "That was just really cruel."
Gaston County Police charged Loftis, 21, of the 600 block of South 12th Street, with felony cruelty to animals Thursday.

"Upon arrival, I spoke to the defendant, who said, 'Is this about that dog. Yeah, I killed the SOB,'" wrote officer J.T. Lubert in his warrant affidavit.

Loftis did not use the abbreviation in talking with Lubert, according to the arrest warrant.

"While en route to the jail, the defendant stated, 'Goin to jail, and I didn't even kill no dog.'"

After this the defendant reportedly stated, "'Ain't this some s—. I been to jail three times for assault on a female and now I'm goin for killing a dog,'" according to Lubert's warrant affidavit.

Loftis faced two charges of assault on a female in 2007, both of which were dismissed at the request of Williams.

Loftis has been arrested and put in jail nine times since 2005, according to Gaston County Jail records.
Loftis reportedly told the officer he "stomped on it" after the dog repeatedly relieved itself in the house.

He also has a charge of violating court orders by calling his girlfriend.

According to the warrant affidavit, after Loftis was brought into Gaston County Jail and booked he asked to use the phone. While on the phone Loftis called his girlfriend.

"Loftis told his girlfriend to come to the jail and tell the magistrate that the dog was already dead or anything to get him out of jail," wrote Gaston County Sheriff's Office Sgt. P. Hagans.

Hagans reported that Loftis repeated this numerous times until Hagans told him to hang up the phone.
Loftis had his first court appearance Friday.

"He was in argument with his girlfriend and he stomped on the skull of the dog," said Gaston County Assistant District Attorney Donald Rice.

Rice asked that the bond be increased because Loftis has a young daughter at home and Rice worried about her safety.

Loftis had a $10,000 secured bond for the animal cruelty charge and a $25,000 secured bond for violating court orders by calling his girlfriend, Crystal Williams, after being booked in Gaston County Jail.

District Court Judge Ralph Gingles kept Loftis' bond at $35,000 secured. Loftis' probable cause court date is scheduled for June 5.

Loftis' grandmother Nettie Shoaf said Williams got the puppy about three or four weeks ago.

"He didn't want it," Shoaf said. "He told her to get rid of it."

Shoaf said Williams kept the puppy despite his objections.

"I don't think he should have killed the dog. I think he should have just got rid of it, gave it away to somebody," Shoaf said. (Gaston Gazette)
Hopefully the girlfriend will have learned her lesson by now! Assaults and now killing an innocent and defenseless tiny puppy. I would think she'd be worried about her daughter even if she doesn't give a damn if she plays punching bag to this piece of trash!
Email This Post
Like this post? Subscribe to my RSS feed and get loads more!