Man Who Beat Dog with Nail Studded Board Gets House Arrest
Friday, May 22nd, 2009 at 7:04 am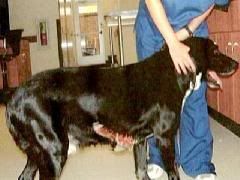 Last July, 26-year-old Anthony Ansill of Arlington severely beat Hobbs, a lab mix, with a nail studded board ripping his abdomen open in a horrific injury. Hobbs' offense? Ansill, who was then watching the dog for a roommate, forgot to let the dog out and the dog had an accident in the house.
Hobbs spent a week in the hospital, his belly held together by staples before he went to Animal Friends Rescue to complete his recovery. He was then adopted by Marilyn Roll who wore a t-shirt with Hobbs' picture on it to Ansill's sentencing. She said Hobbs is a happy, friendly dog who, aside from scars, appears to have forgotten the trauma he went through.
Common Pleas Judge Donald E. Machen, a self-professed animal lover, gave Ansill a serious talking to and threatened him with prison time if he did not abide by the conditions of his sentence. Machen imposed 18 months house arrest, 5 years probation and Ansill was ordered to pay Animal Friends over $2K in restitution.
Ansill, who has an extensive history of mental illness, was also ordered to continue receiving treatment at Western Psychiatric Institute and Clinic.
"I believe you're a problem, a significant problem for society," Judge Machen said.
I may have liked to see Ansill spend some time incarcerated, even in an institution, because he seems to be a danger but it doesn't seem that Judge Machen took this case lightly and did give him a relatively substancial sentence.  Most impotantly, it's wonderful that Hobbs has fully recovered and found a great new home with someone who truly seems to care for him and his welfare.
Email This Post
Like this post? Subscribe to my RSS feed and get loads more!