Man Who Killed Dog with Sword Guilty
Wednesday, November 12th, 2008 at 8:18 am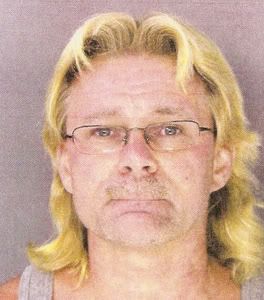 In July, James Jones of Ridley Township, PA, ran a 30 inch sword through the chest of Baby, a 3 year old American bulldog mix, that his wife, Pamela, had rescued as a puppy after weeks of threatening the dog's life.
On Monday, a judge found James Jones, 47, guilty of animal-cruelty and weapons charges after he entered a no-contest plea to both misdemeanor counts.
Although he could actually face a a maximum five-year prison term for each count standard sentencing guidelines fall between probation and three months in jail for each count. In other words, he's most likely wind up with not much more than a 'wrist slap' for the brutal killing of his wife's beloved dog, Baby.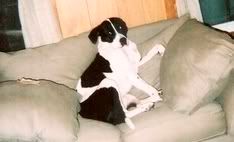 "This is a heartless and brutal act of cruelty and we are going to ask for a prison sentence that is commensurate with that act," Deputy District Attorney Greg Hurchalla said, so we'll see.
As usual, Jones claimed that the dog was aggressive which led to his brutal killing assault on the dog but Pamela denies Baby would have done anything even though Jones knocked Baby in the head causing her to growl at him.
"She wasn't going to bite him, wasn't going to attack him," Pamela Jones said of the family dog. "He stabbed her in her heart and there was blood squirting all over the place, then all four of her legs got wobbly and she fell to the floor and she bled to death on the floor. Her tongue came out of her mouth and she was gone. I couldn't even help her."
"I still have nightmares," Pamela Jones said.
Pamela immediately filed an abuse restraining order and is planning to file for divorce over this incident.
Jones did not make a statement in court … before Senior Judge George Koudelis, but he plans to argue at his sentencing hearing that he had not intended to "severely injure or kill the dog" and that the animal "was being aggressive" when the stabbing occurred, defense attorney Daniel Armstrong said.

Armstrong said Jones has no prior arrests and appears to be mentally sound.

"Then, bam – there's this case at [age] 47," Armstrong said. "Very unusual." (Philly.com)
Jones has been behind bars since his arrest and is due to be sentenced in January after a psychological evaluation.
He'll probably wound up with time served and probation is what I figure unless he gets a judge who actually gives a damn! I guess we'll see come January.
Email This Post
Like this post? Subscribe to my RSS feed and get loads more!