Man Who Killed Girlfriend's Dog Sentenced
Monday, August 11th, 2008 at 8:48 am
In August of 2007, Matthew John Hodges, 20 of Wichita was charged with one felony count of animal cruelty after the body of his then girlfriend's family's dog was found dead, stuffed in the basement ceiling after being missing for days.
Hodges was staying with the family, visiting with his girlfriend at the end of July when the dog went missing. He'd slept in the basement after attending a baseball game with Mr. Czernicki. The next morning, Dutchess, the Czernicki's dog of 12 years was missing.
Hodges stood by silent as the family frantically searched for the dog,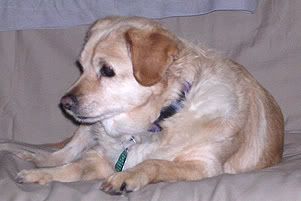 putting up missing posters. On the 31st of July, a foul smell led them to her, stuffed in the ceiling of the basement.
Their beloved dog was dead. She'd been killed by blunt force trauma to the head.
Now, a year later, the story comes to light.
Apparently Hodges got upset when he saw Dutchess trounce on a kitten and killed the dog.
"He kicked the dog, he hit the dog on the head and threw it out of the room" and the dog died, Defense lawyer John Boyd said. "He panicked and hid the dog in the ceiling."
As part of his sentence, handed down Friday, the Wichita man is to have no contact with her or her family. He must serve 120 days on his one-year maximum sentence and will be on probation for a year.
Johnson County District Judge James Franklin Davis also ordered him to pay a $500 fine, $250 in restitution and $415 in lawyer's fees. He also must get a mental evaluation and perform 50 hours of community service.
If he had confessed immediately, Boyd said, he would have spared the family much anguish and probably would not have been charged.
"The cover-up is not only as bad as the crime," he said, "it highlights the crime."
Oddly enough, if you go back to the original story I wrote and look at the comments, you will see a couple saying that Hodges had been acquitted of the crime, posted by either friends or family. Well, somehow I don't see Hodges being sentenced if he was acquitted. Wonder what they hoped to accomplish by that??
I'm glad that he'll have to undergo a mental evaluation because he sure needs it! To let a frantic and distraught family search for their beloved dog knowing all the while that he'd not only killed it but hid its body, and somewhere they were sure to find it. Very sick!!
Email This Post
Like this post? Subscribe to my RSS feed and get loads more!