Man Who Locked Dog in Closet to Starve to Death in Court Today
Friday, September 19th, 2008 at 8:44 am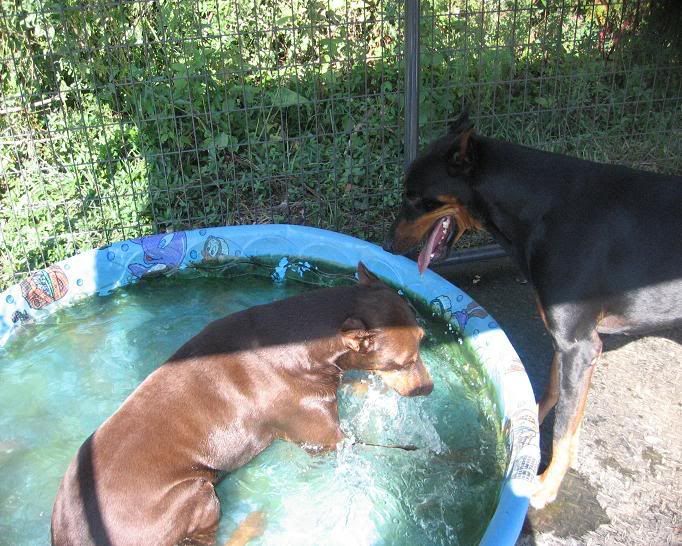 See UPDATE Below on What Happened in Court!
Tyrell Suggs of Smyth County, Virginia, will be in court today, facing charges of animal cruelty after a dog he owned, Omar, was found starved to death, locked in a closet, on July 2, 2008.
Omar was a beautiful 3 year old Doberman who was well loved by his original owner, but due to circumstances, she had to rehome him. She tried to do the best she could by Omar, placing him with someone she thought would love and care for him as she did.
Sadly, somehow Omar was rehomed again, with Suggs. This waste of life human scum locked this beautiful dog in a closet when he went to jail and didn't bother to tell anyone, leaving the dog to die a cruel and horrible death.
Today he faces the court.
Caroline Watenbach of Saving Furry Friends will also be in court today and will let me know what takes place. She organized a petition to ask Smyth County of prosecute Tyrell Suggs to the fullest extent of the law. We'll find out if anyone listened.
I'll update you with the news later….
Well, just got a call from Caroline and this scumbag didn't even bother to show up for court so now Officer Chris Bennett, who was the first officer on the scene, is having the case bound over to a grand jury. So we can also add contempt of court to the charges and one bit of good news, the animal cruelty charges have also been upgraded from a misdemeanor to a felony.
No doubt they will be issuing warrant for his arrest and hopefully he will be found and behind bars where he belongs!!
No court date set yet, we can expect to hear something by next Tuesday….
The Petition is still open for signatures and we are far from the mark… please, if you haven't taken the time to sign, take a minute and do so now!
Sign the PETITION!!
Please, help to get the word out, post and crosspost this…. email it to friends and family…. share it in forums and groups. We want to get 10,000 signatures to let Smyth County know the eyes of the world are watching and that we care and we demand justice for Omar, left to starve to death.
Email This Post
Like this post? Subscribe to my RSS feed and get loads more!