Massive Puppy Mill Raid in TN – Almost 700 Dogs – VIDEO
Thursday, June 26th, 2008 at 8:06 am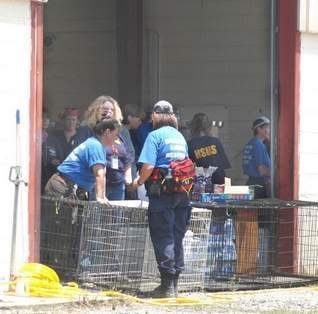 Yesterday's raid on Pine Bluff Kennels on Ed Lyell Road in Hickman County, TN, is believed to be "largest puppy mill rescue ever conducted in Tennessee" according the the HSUS. A variety of breeds of dogs were rescued from conditions described as "extremely poor," typical of a 'puppy mill'.
Many dogs were suffering from obvious illness and injuries such as skin conditions, eye injuries and broken bones. It's believed that many dogs were never let out of their cages. Many were without waters and there was a build-up of feces. Dead dogs as well as dogs very close to death were found.
"We are looking at about 700 animals right now, maybe more will be added to that count," said Stephanie Shain, director of the Humane Society's Stop Puppy Mills campaign. "The conditions are extremely poor. They are typical of a breeding operation like this, what we call a puppy mill."
Officials and volunteers found about 200 puppies. The rest of the dogs were used for breeding.
Shain said puppy mill dogs typically are sold at prices from $150 to $1,000.

"It is likely that no one who ever purchased a puppy from this operation saw these conditions," Shain said.

Selling puppies on the Internet allows breeding operations to remain out of sight from potential buyers, Shain said. She estimated that there are more than 10,000 "puppy mills" operating in the U.S.

The rescue was set in motion by the Humane Society, which received tips from residents. Kim Helper, district attorney for Hickman, Lewis, Perry and Williamson counties, had investigators build a case against the puppy mill operator, who has not been identified or charged.

Shain said other animals were kept at the 92-acre property, including ponies, goats and birds. Approximately 60 volunteers were involved in the rescue.

"Our primary concern right now, and what we're focusing on, is assuring that those animals are taken care of properly … that they're evaluated to assure that they receive any necessary treatment," Helper said. "And once we have taken care of those animals, at that point our office will look at whether or not we need to file any criminal charges."

The owner of Pine Bluff Kennels could face numerous animal cruelty charges, including aggravated animal cruelty, a class E felony that carries a possible two-year prison sentence, according to Helper.

Humane Society officials said it would take hours to transport and catalog all the animals, and didn't expect to finish until this morning. (Tennesean)
The farm belonged to Patricia Adkisson and this is not her first brush with the law. Adkisson was charged in 1998 with 195 counts of animal neglect and cruelty after police and animal officials said they found hundreds of malnourished dogs and puppies on her property.
Three convictions stemming from the 1998 charges were overturned in 2001 when an appeals court found that police had improperly searched her property, which violated her constitutional rights.
Helper said she didn't want what happened in the last case to happen again.
"We want to make sure that if criminal charges are filed in this case that we have a successful prosecution," she said.
UPDATES
6/29/08 – Follow-Up on Pine Bluff Kennel, Almost 700 Dog Seized from Puppy Mill – VIDEO
7/1/08 – Good News for More of the Tennessee Rescued Puppy Mill Dogs
7/3/08 – People Flock to Adopt Rescued Pine Bluff Kennel Dogs, More Disturbing Details Emerge
Email This Post
Like this post? Subscribe to my RSS feed and get loads more!