Mayor Shoots Two Dogs in Owners Yard – VIDEO
Friday, February 6th, 2009 at 8:54 am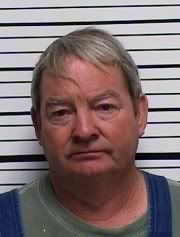 Update 7/2/09 – Dog Shooting Mayor Facing Trial for Felony Animal Cruelty
Update 2/11/09 – Dog Shooting Mayor Gets Standing Ovation
Mayor Don Call of McCune, KS has threatened to shoot Duane Wahl's dogs if they were running loose again. On Sunday, he got a call from a resident that said the dogs were loose and chasing his children. Call got in his vehicle with a 9mm semi-automatic rifle, tracked the dogs dog laying in Wahl's yard and proceeded to shoot them… again and again. Sheriff Sandy Horton says the dogs were shot 7 times with the high powered rifle.
"I told him that if he did not want to take care of the dogs, that I was going to shoot them the next time," Call said. "I said that I was through playing this game and he was going to take care of them and that was back in January."
Call then left, went to his home to get a trailer and loaded the dead dogs on the trailer to take to his home for disposal.
The Mayor says he was protecting his community but the Sheriff doesn't look at it that way.
"A witness says he drove around the block, shot a few more rounds, drove around a third time, came back and shot a few more times," said Crawford County Sheriff Sandy Horton.
Sheriff Sandy Horton says the dogs were a threat to no one when he says they were shot at least seven times.
"A 9mm rifle, the bullets are going to travel a long way, and shooting that many rounds inside a community is to me, going a lot overboard," said Sheriff Horton.
Sheriff's records show the department received four calls since June 2008 complaining about Wahl's dogs being aggressive and running loose through town. Call said the city has sent Wahl letters about the dogs.
Wahl said the dogs were chained up in his yard when they were shot. As I've read through the numerous reports, it seems Wahl said in January that he was going to get rid of the dogs. One report says on one of the dogs was his, another says neither dog that was shot was his and of course the first reports coming out say that they were safely chained in his yard. Guess that will get figured out in time but that doesn't change the fact that two dogs were shot dead while they were laying in Wahl's yard.
The Crawford County Prosecutor has charged the mayor with two felony counts of cruelty to animals and one misdemeanor count of criminal discharge of a firearm. He turned himself in and was released on $3000 bail. He says he has no regrets about killing the dogs.
McCune's dog ordinance, passed in 2006, says dogs running at large are subject to impoundment, and that no dogs can be "disposed of until after a minimum of three full business days of custody."
Now I have to admit that I have very mixed feelings about this. No, there is no way that I could ever condone the Mayor's actions. When he shot and killed the dogs they were no threat to anyone. But is these dogs had been an ongoing problem, something should have been done. The owner of the dogs bears the responsibility for keeping their pets under control. I can understand a dog escaping once and that really should be all the heads up a person needs to make sure they are more secured in the future.
There is no doubt that the Mayor has earned the charges against him but what about the dog owner, if indeed the dogs did belong to Wahl? He seems to be distancing himself from the situation pretty quick and hard now but…
What are your thoughts about this whole fiasco??
Email This Post
Like this post? Subscribe to my RSS feed and get loads more!