Memorial for 'Justice', NJ Dog Cruelly Slain
Sunday, July 22nd, 2007 at 10:48 am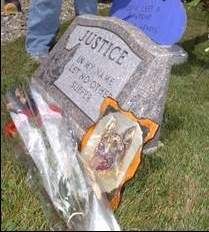 Many people gathered for a touching memorial that was held for Justice, the German Shepherd that was so cruelly tortured and slain and found dumped along a rural Fairfield Township road on April 18, yesterday.
Justice has become yet another statistic in man's inhumanity against the innocent but Justice has also become much more. His horrendous death has also opened the eyes of many people, including legislators, who are now calling for stricter animal cruelty laws and penalties.
A memorial service today for a slain German shepherd, posthumously named Justice, became a public rally for stricter animal cruelty laws and severe penalties for those convicted of such offenses.

More than 200 people gathered outside the Cumberland County Society for the Prevention of Cruelty to Animals this morning to remember the shepherd, who was found dead and discarded April 18 along a Fairfield Township rural road. The post-mortem investigation revealed the suspects gutted the shepherd while it was alive, causing the distressed dog to bite through its own tongue.

Guest speaker Assemblyman Jeff Van Drew urged those present to join his 2 1/2-year fight to revise the state's 125-year animal cruelty laws.

Local incidents are not isolated cases, he said, referring to the high-profile arrest Atlanta Falcon Michael Vick on dog fighting allegations..

Getting Angel's Law passed has been an uphill battle, Van Drew told the crowd.

"The truth is because there are so many players and it's such a complicated process, we haven't been able to get entirely to the finish line," he said. "We need to get to finish line, we need to make it better.

The public can help by contacting legislators throughout the state and Secretary of Agriculture Charles Kuperus to lobby their support for the bill, Van Drew said, hoping to get a vote on the bill this fall.

State Senator Nicholas Asselta, who has also taken up the fight for tougher animal cruelty laws, said legislation alone is not enough.

The public must demand that law enforcement officials and prosecutors aggressively pursue the prosecution of animal cruelty offenders.

"This morning, I believe that's what it's all about, challenging our prosecutor's offices around this state and our law enforcement people to pay particular attention to all the laws already on the books to make sure our animals are protected," Asselta said.

HOW TO HELP
Anyone with information regarding the Justice case is asked to call the SPCA at (856) 691-1500.

To send e-mails to state legislators, go to www.njleg.state.nj.us.

Click on 'Contact Us' at the top of the page to the right.

Then go down midway down the webpage to where it says 'Your state legislators welcome your thoughts,' and click on 'Complete this form.'

Select a municipality and then click on 'Find Representatives.' Choose the state representatives you wish to e-mail by place a check in the boxes to the left of 'Select Your Representatives.'

Fill out the electronic form with your message and click send.

To E-mail the N.J. Department of Agriculture, go online to: www.state.nj.us/agriculture/contact.shtml (The Daily Journal)
It's sad when it takes something like this to make people see, but if this poor innocent dog's death actually accomplishes something then at least we can say that he didn't die in vain. It's not much, but it is something, and it is more then many victims of abuse have! 🙁
Email This Post
Like this post? Subscribe to my RSS feed and get loads more!