Men Who Butchered and Ate Dog Indicted – Felony Animal Cruelty
Wednesday, January 23rd, 2008 at 10:12 am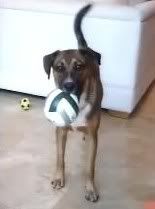 Under a new animal cruelty law, two Hawaiin men were indicted for butchering and eating an 8 month old pet dog they stole.
Saturnino Palting, 48, and Nelson Domingo, 53, both of Kalihi, HI, are the first to be indicted under the now felony animal abuse law, "knowingly either tortured or mutilated the dog resulting in serious bodily injury and eventually its death."
"Both suspects were identified as having stolen a pet dog without the owners consent, who was tied up at the Moanalua Golf Course, and then left and then killed it at another persons house and chopped it up to eat," said Deputy Prosecutor, Vickie Kapp.
On December 16, Palting and Domingo stole Frank Manuma's eight month-old puppy, a German shepherd-Labrador mix named Caddy. Manuma had taken Caddy with him to Moanalua Golf Club and had permission to leave his pet at an equipment shack near the clubhouse while he golfed. When he went to retrieve Caddy after he finished golfing, Caddy and the leash used to keep him at the shack were gone.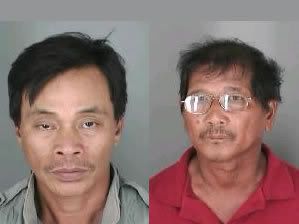 Palting and Domingo's claim that the dog ran away was quickly refuted by numerous witnesses. Both men are now former golf course employees.
Other golf club members told the golf club manager they saw maintenance workers Palting and Domingo load the dog into a car about the time they ended their shifts. The manager said he called Palting and Domingo back to work and fired them.

Manuma's wife, Debbie Weil-Manuma, said police told her and her husband that the maintenance workers confessed to taking the dog, butchering and eating it. A third man, another golf course employee who was not working that day, told police Palting and Domingo took the dog to his house, where they killed and butchered it. (Star Bulletin)
"The suspect Palting is an alien from the Philippines and is therefore a flight risk. However we have no evidence of prior record. As for respect for suspect Domingo, he is also from the Philippines and is also a flight risk, but has no record that we are aware of," said the prosecutor as he requested there be no bail for either man.
As of Tuesday afternoon, neither man had turned himself in although bench warrants had been issued.
They face one count each of second degree theft and first degree cruelty to animals and if convicted, Palting and Domingo could face five years in prison and a ten-thousand dollar fine.
It rips my heart out and turns my stomach when I hear stories of people using dogs as food in other countries where it is considered the 'norm' but to hear an atrocity like that happening in the United States is just unbelievable! I cannot even find words to express my anger and grief. The pain the Manuma's are feeling must just be unfathomable. It's hard enough to lose a beloved pet but to lose one in this heinous, brutal and cruel way…..
UPDATE – 1/23/08 – Evening
Both men were arrested in their home;
Palting and Domingo were arrested on $20,000 warrants at their homes. Both are being held at the main police station cellblock for transport tomorrow to court.
Email This Post
Like this post? Subscribe to my RSS feed and get loads more!