Michael Vick – Back in the News Again About State Charges
Thursday, October 23rd, 2008 at 7:39 am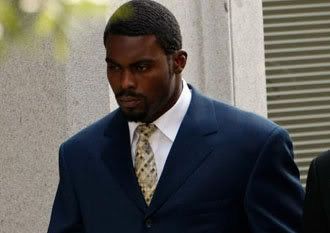 Michael Vick's all steamed up to plead guilty to the dogfighting charges pending against him by the Commonwealth of Virginia as quickly as he can. Vick's attorney's filed a motion on October 15 with the Surry County Circuit Court to allow him to enter his plea by video teleconference.
Why you ask does he want to do this? Is he so remorseful of his actions? Not hardly!
Seems he cannot be eligible for an early release from federal prison into a halfway house unless he gets this settled. Under federal rules, Vick is ineligible to be released to a Residential Re-entry Center in the federal system until any pending charges against him are resolved. His scheduled release from the fed pen is July 20, 2009 at this point.
According to the motion filed by Martin and Woodward, Vick hopes that by resolving his state case he may become eligible for early release from federal prison and possibly enter a halfway house six months prior to his scheduled July release.
Of course his lawyers are spouting the ole 'responsibility' line and all that BS. In a statement, Vick attorneys Billy Martin and Lawrence Woodward said their client "is committed to taking responsibility for his actions. He is hopeful that, through this motion, the trial court will allow him to finally resolve these matters and put the charges behind him so that he can begin to focus on his future and to prepare to be reunited with his family."
All he wants is out as quickly as he can and to try to take a shot at getting back into football. I still believe the only remorse he feels is for getting caught and majorly screwing up his nice cushy life. Serves him right!
Once he's out of federal prison, he'll have 3 years of probation and pleading guilty to the state charges isn't going to really hurt him a whole lot. Word has it that he's not going to be facing any jail time. He'll get an unspecified suspended sentence and some more probation. Really tough, isn't it?
"I'm not trying to make him suffer," Commonwealth's Attorney Gerald Poindexter said in a telephone interview. "I'm just trying to make him account for what he's done."
Surry County Commonwealth Attorney Gerald Poindexter previously announced he would not seek a trial date for Vick, and his three co-defendants, until they have served their federal time due to logistics and expense.
A hearing on the motion has been scheduled for 11 a.m, Thursday, Oct. 30 so I guess we'll find out then what the outcome here is going to be. Probably not going to be any surprises, after all he got to work all his bankruptcies via teleconference.
When is he going to be held responsible, and I mean really responsible, for the cruel torture deaths of the dogs that he was responsible for?? He still has never face animal cruelty charges and this pisses me off! Sure, he tried to gloss all that over and put the blame on others but it's all more of his BS. Take responsibility? Yeah, right! Not in this lifetime.
The Virginia indictment charges Vick with one count of torturing and killing dogs and one count of promoting dogfighting. Each carries a maximum five-year prison term but good ole boy Vick isn't going to be facing any of that it seems. Doesn't sound like he's being held responsible for anything with a suspended sentence and probation.
Ok, off my soapbox now. This whole debacle still makes me beyond angry, if you couldn't tell.
If you're actually still interested, you can catch up on all the Michael Vick background and BS HERE.
Email This Post
Like this post? Subscribe to my RSS feed and get loads more!