Michael Vick Formally Enters Guilty Plea Today
Monday, August 27th, 2007 at 11:08 am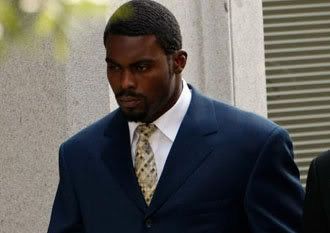 Today Michael Vick stood before U.S. District Judge Henry E. Hudson and formally entered his guilty plea for "Conspiracy to Travel in Interstate Commerce in Aid of Unlawful Activities and to Sponsor a Dog in an Animal Fighting Venture." his sentencing will take place on December 10 at 10 am.
Standing ramrod straight, Vick said "guilty" when asked by U.S. District Judge Henry Hudson how he would plead to the charge of conspiracy in connection with an illegal, interstate dogfighting enterprise.
Shortly after 11:30 am today, Vick made his first statement; "I take this opportunity to speak from the heart.
I want to apologize for all the things I've done" said Vick. "I want to personally apologize to Roger Goodell and Arthur Blank…"
"I apologize to all the kids out there for my immature acts," Vick said at a press conference following the hearing. "I have to grow up. … I ask for forgiveness and understanding in going forward."
Vick admitted to making mistakes, but only mentioned dogfighting once in his statement.
"We all make mistakes. I made a mistake for using bad judgment and making bad decisions," Vick said. "Dogfighting is a terrible thing and I didn't reject it. … Through this situation I found Jesus and turned my life over to God."
"I will redeem myself."
Judge Hudson accepted his plea agreement and warned him, "You're taking your chances here," Hudson told Vick as he warned that he could impose the maximum sentence of five years in prison. "You'll have to live with whatever decision I make." He also went on to tell Vick that in pleading guilty to a felony, he loses his right to vote, hold public office, be on a jury and own firearms and by the terms of the plea agreement he loses any right to appeal.
Under Vick's deal, "the government agrees to recommend sentencing at the low end of the applicable guideline range, provided the defendant fulfills his obligations under this plea agreement." That range, according to sources, could be from one to three years behind bars, a decision that will be made by U.S. District Court Judge Henry Hudson at the sentencing hearing.
"I place a lot of importance on the government recommendation but I want it understood that I am not bound by that part of the plea agreement," Hudson said in court. "The decision is mine in regard to sentencing."
"If I decide you deserve five years, you'll get five years and you can't appeal that. Do you understand that?" Hudson asked.
"Yes, Sir," Vick responded.
"A first-time offender might well receive no jail time for this offense," U.S. Attorney Chuck Rosenberg said in a statement. "We thought, however, that the conduct in this conspiracy was heinous, cruel and inhumane" so three of the four defendants, including Vick, should receive harsher sentences.
The first defendant to plead guilty left the conspiracy in 2004 and is not as culpable, he said.
After the hearing, Billy Martin, along with Vick's other lawyers, issued the following statement;
"I think you will find he will talk about accepting responsibility, talk about what he hopes to occur at probation," Martin told reporters. And in response to a question about Vick's sentencing, Martin said, "We hope that Judge Hudson will see the real Mike Vick. What you are seeing is an aberration. We think Judge Hudson will get it right when he sentences Vick on December 10th."
During today's press conference Vick apologized for lying to NFL Commissioner Roger Goodell, Atlanta Falcons' owner Arthur Blank and coach Bobby Petrino, as well as to his teammates. He also apologized repeatedly to any young people who have been following his case and may have looked up to him.
"I totally ask for forgiveness and understanding as I move forward to bettering Michael Vick the person, not the football player," Vick, wearing a a dark suit, said in a somber tone.
At 12:30 today at Blank's Buckhead offices, Falcons owner Arthur Blank and president and general manager Rich McKay will hold a press conference to discuss the plea. I'll keep you updated.
NOTE – see below for updates and information on the Falcons press conference.
To read Michael Vick's Plea Agreement, download it HERE
To read Michael Vick's Statement of Facts, download it HERE
For all the background and information as well as the full indictment and Pernell, Peace and Taylor's "Statements of Facts", please see – Michael Vick and Dogfighting
From the Falcon's Press Conference
At the press conference held just hours after Vick entered his guilty plea in federal court in Richmond, Falcons president and general manager Rich McKay confirmed that the team has begun the process of getting signing bonus money back from Michael Vick. The team sent a letter stating its demands. Although McKay is not specifying the amount they are demanding back, speculation puts the figure at $22 million.
McKay said the NFL will be involved in the process, and that any money received will be adjust the team's salary cap.
And surprisingly, Falcon's owner Arthur Blank said that it was not in the team's best long-term interests to cut convicted star quarterback Michael Vick from the squad.
Shortly after Vick pleaded guilty to the charge of conspiracy in an illegal dogfighting enterprise, team owner Arthur Blank said, "We cannot tell you today that Michael is cut from the team," adding that it was not in the team's best long-term interests.
Blank, during a press conference Monday afternoon, said he would accept Vick's apology, but added that he was "profoundly disappointed and saddened" by the actions Michael has admitted to.

"He has let down his fans and his team, he's damaged the reputation of our club and the entire National Football League, and betrayed the trust of many people."

Blank also said the idea of terminating Vick's contract was not simple because of the legal ramifications.

"We cannot tell you today that Michael is cut from the team," Blank stated. "Cutting him may feel better today, emotionally, for us and many of our fans. But it's not in the long-term best interests of our franchise.

"The decisions relating to Michael's status with the team are tied to legal, financial and contractual personnel issues that still must be sorted out. But what I can tell you, is we have to move on with our football team." (Seattle Post Intelligencer)
So even thought Vick is suspended and the Goodell will wait for the legal process to run its course before deciding how long Vick's suspension should run, for the time being at least, he will remain on the Falcon's roster.
"We don't know what the future holds for Michael. Having said that, I do believe in redemption. After Michael pays his debt to society, when he does the proper self-reflection, which I thought began this morning publicly in his press conference. With very sincere and heartfelt statements by him, maybe he'll have an opportunity to play again in the National Football League." Blank said.
Now exactly what does this mean? After all of Arthur Blank's outrage, is he backpeddling now? Ultimately, Vick's fate with the NFL lies in the hands of Goodell who has come down hard on violators of the new player conduct policy in the league and we can only hope that we have seen the last of Michael Vick on the playing field!
Email This Post
Like this post? Subscribe to my RSS feed and get loads more!