Michael Vick Pleads Not Guilty! 7/26 Court Hearing
Thursday, July 26th, 2007 at 5:09 pm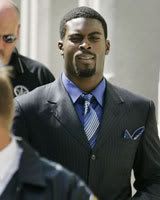 Michael Vick stood in U.S. District Court in Richmond, Virginia today with his co-defendents, Purnell Peace, Quanis Phillips and Tony Taylor, and pleaded 'not guilty' to the charge of 'Conspiracy to Travel in Interstate Commerce in Aid of Unlawful Activities nd to Sponsor a Dog in an Animal Fighting Venture.' All four defendants were released without bond and a trial date was set for November 26.
As Vick was in court his Falcon's teamates were at their first practice of the season. Vick has been barred from practice while the league conducts its own investigation into the allegations.
Vick and his alleged co-conspiritors face a maximum penalty of six years in jail and a $350,000 fine if convicted.
When he arrived at the federal courthouse in Richmond around 2:55 p.m. today, he was greeted by scores of protesters when he exited the vehicle.

The crowd screamed and booed; some had signs saying "Throw the book at Michael Vick" and "Michael Vick is an overpaid criminal."

Animal-rights activists say that while emotions are running high, they hope this case becomes a teachable moment for people who have never thought about dog fighting.

"I think it's incumbent on animal-protection groups, people that care about dogs, to take this dark, dark cloud and put a silver lining on it," said John Goodwin, manager of animal fighting issues for the Humane Society of the United States.

While the problems of animal overpopulation and stray dogs have been the stuff of TV commercials, dog fighting has largely existed under the public radar.

Until now. (Newsday)
Perhaps that is the one good thing that can come out of all of this; an increased awareness of the cruel and vicious bloodsport! New story and news story, everyone seems to be taking up the cry of dog fighting now. From east to west and north to south, the evidence has always been there but now people are opening their eyes to it and want something done about it. Sad that it would take the gravity of a high profile case with a high profile figure to finally bring this out into the spotlight.
The following is Michael Vick's statement as read by his attorney;
"Today in court, I pleaded innocent to the allegations made against me. I take these charges very seriously and look forward to clearing my good name. I respectfully ask all of you to hold your judgement until all of the facts are shown. Above all, I would like to say to my mom, I am sorry for what she has had to go through and in this most trying of times. It has caused pain to my family and I apologize to my family. I also want to apologize to my Falcons teammates for not being with them at the beginning of spring training."
For additional coverage check out – CNN, InRich.com, MSNBC, Sports Illustrated
To read the entire 19 page indictment, download it HERE
For more background and information as well as all up to date related posts, please see – Michael Vick and Dogfighting
Email This Post
Like this post? Subscribe to my RSS feed and get loads more!