Michael Vick's Apology 'Notes' Go for $10,200 on eBay
Saturday, September 15th, 2007 at 8:41 am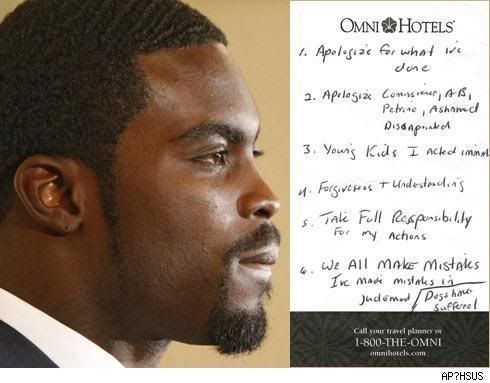 The apology 'notes' that were found on the podium after Michael's Vick public appearance on August 27th brought a whopping $10,200 for the Humane Society of the United States at the close of the eBay auction.
And the winning bidder? Comedian and TV writer Carol Leifer. Leifer is already a HSUS member and supporter and "was motivated to make the winning bid by knowing the proceeds will go to the animal rights group."
President and CEO of the HSUS says that they will put "every cent of this $10,200 towards antidogfighting efforts."
Through a spokesperson, Billy Martin, one of Vick's attorneys, said that the notes were not written by Vick himself but would not elaborate further.
Bidding was fast and furious once the 'notes' went up for auction and whether Vick wrote them himself or not, it's quite obvious that they were 'his' notes.
Although I would personally like to see the money disbursed to various needy shelters to be put to use for the actual care of shelter animals, it's still a big win. 😀
For all the background and info on the Michael Vick case, including all the documents, please see Michael Vick and Dogfighting.
Source – Times News
Email This Post
Like this post? Subscribe to my RSS feed and get loads more!