Michael Vick's Remaining Two Co-Defendants Set to Enter Plea Agreements
Monday, August 13th, 2007 at 5:42 pm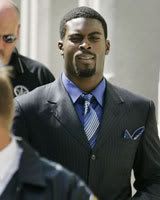 Well it looks like Michael Vick will stand alone, Quanis Phillips and Pernell Peace will be following in the footsteps of Tony Taylor and entering plea agreements as well.
Quanis Phillips of Atlanta is scheduled for Friday at 9 a.m. and Purnell Peace of Virginia Beach is scheduled for Thursday morning at 9 a.m to enter their plea agreements for two felony crimes — conspiracy to commit an unlawful act and sponsoring an animal in an unlawful animal fighting venture. (UPDATE – Pernell Peace's hearing has been rescheduled for Friday, 15 minutes after Quanis Phillips)
It's kind of funny, when I was writing about the Tony Taylor plea agreement I made the comment, "And will Purnell A. Peace, 35, of Virginia Beach and Quanis L. Phillips, 28, of Atlanta, be next in line to plea out leaving Vick to stand alone? Time will tell!" Looks like time did tell!
Collins R. Spencer III, a spokesman for Vick's defense team, said the lawyers were surprised by the plea deals and assumes they, like Tony Taylor, agreed to cooperate with the government.
"They didn't see it coming," Spencer said.
He added, "The only other comment that they want to make is that this won't affect the way they proceed with the case. We're moving forward with taking the case to trial on Nov. 26."
And there are rumors floating around, although they are being denied, that Vick may be suspended for the 2007-08 season. Guess this is another one of those 'time will tell' but with Phillips and Peace entering plea agreements, the evidence against Vick may be mounting to the point that the NFL may have to do something.
Goodell may also have to confront the gambling allegations that are tied to the the alleged dogfighting case anyway. NFL rules say participating in gambling activities that bring discredit on the NFL can result in a lifetime ban.
"Listen, we're sickened by the allegations and the predicament Michael put himself in. But there are a lot of things in the indictment that concern the NFL that may not be of a greater concern from a law enforcement standpoint."

The league's strict policy against gambling, addressed in Paragraph 15 of the standard player contract, which deals with integrity of the game issues,  goes beyond betting on NFL games. It warns that violations could result in severe penalties up to a lifetime suspension.

Under terms of the policy, a violation could occur by associating with any gambling activities that bring discredit to the NFL.
Will Michael Vick follow suit and enter a plea as well? It seems he's been offered one and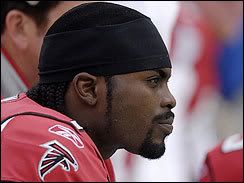 has until Friday to make a decision one way or another. While his lawyers say they are planning to go to trial, is Michael Vick contemplating?
Michael Vick has been offered a plea agreement for his alleged role in a dogfighting operation, according to a news report Tuesday.

Attorneys for the embattled Atlanta Falcons quarterback met with federal prosecutors Monday, ESPN reported.

Vick has until Friday to accept or reject the agreement, EPSN reported. If he declines the plea deal, Vick will face at least two more federal dogfighting charges, ESPN reported. (CBS NEWS)
Meanwhile the NFL continues its own investigation, Eric Holder, a former deputy attorney general retained by the league, is still gathering facts on Vick's alleged involvement in dogfighting, NFL spokesman Greg Aiello said Monday.
For more background and information as well as all up to date related posts, the full indictment and Tony Taylor's 'Statement of Facts', please see – Michael Vick and Dogfighting
Email This Post
Like this post? Subscribe to my RSS feed and get loads more!