Military Rips Dog from Soldier in Iraq, Dog Doomed to Almost Sure Death!
Tuesday, October 7th, 2008 at 7:14 pm
UPDATE 10/23/08 – Ratchet's a Hit in Minneapolis – VIDEO
Update 10/20/08 – Iraqui Puppy Ratchet Hits US Soil – Video
Update 10/19/08 – Ratchet is on his Way Home!!!
UPDATE 10/15/08 – Operation Baghdad Pup's Flight Left Iraq…. Without Ratchet!
Update 10/13/08 – Ratchet Found! Was Stuffed in a Freezer
See Update 10/13/08 – Where's Ratchet Now?
See Update 10/12/08 – Contact Information
Whether I support the war in Iraq or not is immaterial. What I do support are our troops, our men and women in the military fighting and often giving their very lives. I support them and respect them. No, they're not all worthy of that respect but in general, I give them my support and offer my prayers for their safe return home.
Now, what does this have to do with dogs you may ask? You've probably heard of Operation Baghdad Pups. The SPCA along with volunteers works to bring home dogs and cats that our soldiers have taken under their care. Their motto, "No Buddy Left Behind" says it all!
We all know the love and loyalty of our own pets. We know often the very salvation they offer us. Imagine what they do for our soldiers, thousands of miles from home, living amid death and war and horrific conditions that we cannot even begin to fathom.
To say that these dogs and cats are a lifeline is probably far too weak and pallid a description. Often, I am sure, they give these soldiers a reason to live and something to love in a place where there is so little for them.
Now imagine living in this hostile environment, stuck for months far beyond what you were supposed to be deployed for. You're living in hell every day and just surviving is beyond a struggle.
This was the life of one of our American soldiers in Iraq, Sgt. Gwen Beberg. But Gwen found a lifeline along the way, a tiny little ball of fur she named Rachet. Gwen has been held in Iraq by the stop-loss policy for over 15 months longer than her original commitment to the military and Ratchet has been one of the things that kept her going day after day.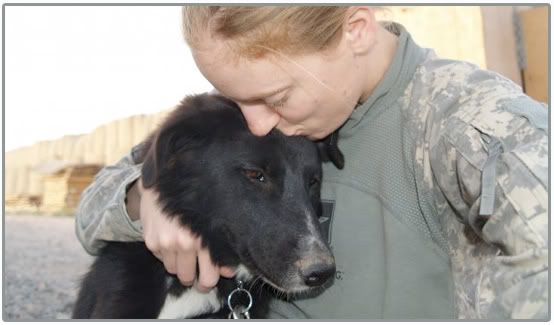 Gwen kept in touch with her friends and family and shared pictures of her beloved Ratchet as he grew from a scared little puppy into a beautiful young dog. You can imagine how elated she must have been when he was accepted into Operation Bahgdad Pups and she knew her baby would be waiting for her, safe in Minnesota with her family until she could return.
Then on about October 1….
Today, the United States military committed a crime against their own mentally wounded U.S. soldiers serving in Iraq. Commanding officers ordered the confiscation of a dog, Ratchet, befriended by a group of soldiers during a 15th month of deployment. Ratchet has been a lifeline to Sgt. Gwen Beberg. This morning, Ratchet was on his way to SPCA International rescue experts at the Baghdad Airport to be flown home to Gwen's parents in Minneapolis, MN when Sgt. Beberg's commanding officers ordered Ratchet confiscated and held in Iraq to face certain death. (SPCA)
Of all the cruel heartless acts!!
"This year has been extremely difficult on my daughter and her family. It has been a year of disappointments, loneliness, and fear because of all the sacrifices the army has required of Gwen. Ratchet was the savior of her sanity. Now they have cruelly ripped Ratchet away from her and sentenced him to death. I don't know how my daughter will cope. Ratchet has been her lifeline," explains Sgt. Beberg's mother, Patricia Beberg.
And to make matters even worse, if you can believe it, Gwen is now under investigation for befriending Ratchet. Gwen, a decorated soldier, has not only lost the dog that she saved and who in turn saved her, her very freedom is in danger!
It is against military regulations for active duty troops to befriend animals – Soldiers can face immediate court-marshal and some even see their animals brutally murdered by a direct gunshot to the head from commanding officers who will not bend the rules.
What an untenable situation! Our soldiers give and sacrifice, sometimes their very lives, and our military cannot bend just a little, have just the tiniest bit of compassion and heart. They would rip this dog away just as it was on the road home, to be with the family of the woman who has been putting her life on the line and for what??
The more I read of this story, the angrier I got. How dare they?! What the hell harm is there in saving a puppy, same as so many soldiers have been doing? These dog literally do save their sanity and even their humanity.
My friends, Ratchet and Gwen need our help and support and they need it now and need it desperately!!
What Can You Do?
Gwen is a Minnisota native. If you live in MN, contact your senators and ask for their help.
Senator Amy Klobuchar:
(888) 224-9043 -or- (612) 727-5220
Senator Norm Coleman:
(800) 642-6041 -or- (651) 645-0323
Representative Keith Ellison,
(West Twin Cities, Minneapolis)
(202) 225-4755
If you're not in MN, call your senators and representatives as well.
Right now there is little information available, no unit, no names of commanding officers or anything else and I know that more is needed but work with what you have. Help to get this story out. Get the word out in forums, in groups, to the media, send it to you friends and family. Share it through social networks like Digg, Stumble, etc… there are links below. When I get more information, I will post it immediately, I know how important it is.
I know I have some military people out there that read this site, retired and active, and military moms too, please, please, help to get the word out!!
We have to raise our voices at this injustice! Our soldiers are willing to risk their lives… is it too much to ask that they hold onto their sanity and humanity through the love of a dog??
A Petition has also been started asking for clemency for Ratchet. Please take a moment to sign the petition and add your plea!
And for those who want to cite rules and regs and all that, I know all of that, but soldiers befriending dogs and cats in these war-torn zones is not new, regardless of the rules. Take a look at some of the Success stories from Operation Baghdad Pups. They are so heartwarming.
These animals only help morale and it costs the military nothing to bring them home to loving families. It's all done through donations.
This whole situation is such a travesty!
Don't just read this story and shake your head over the injustice! Take action! All you need to do is to help spread the word, email it, make some calls. It's not so hard and will only take a few minutes of your time. This goes beyond Sgt. Gwen Beberg and Ratchet, it's for all the soldiers risking their lives and the furry four-legged companions that help them make it from one day to the next!
The word is really getting out on this story and the support is phenomenal. I wish I could say that everything I have been reading in the past couple of days has been positive but then we all know there are plenty of jerks out there.
Here is the latest update posted by Gwen's friend;
Last Wednesday, Ratchet was in a convoy actually on the way to the airport. Some soldiers had volunteered to take him and drop him off with Baghdad Pups. When the military found out about this, however, they stopped the convoy and confiscated Ratchet.

According to Stephanie from Baghdad Pups, this is unprecedented. Normally, Baghdad Pups has no problem taking dogs or cats away from war zones.

However, the military refused to let Ratchet leave for some unknown reason. He does not have an official "job" on the base, so she was not taking him unlawfully. His ownership was also not under dispute.

At the moment, Ratchet is not being physically threatened. He is simply not allowed to leave. This is a big problem because Gwen leaves in October and the last chance Baghdad Pups has to get him out is next week. If Ratchet does not get out before she leaves, he will have to be abandoned and will face certain death.
Gwen is just devastated over this but grateful for such support. She had planned to train Ratchet as a service dog for herself.
"Ratchet is first-line defense against PTSD and suicide. He has made me think twice about some seriously self-damaging actions several times. He really has helped me to survive…."
Some Additional Details
Ratchet is at COP Meade, near Baghdad in Iraq
15 other dogs were allowed to leave last week with Baghdad Pups on the flight Ratchet was supposed to be on.
The military seized Ratchet on his way to the airport.
Ratchet is healthy and there is no physical reason to deny him from leaving.
Ratchet needs a military release because the military is refusing to let him leave Iraq.
The only way to do this is to put some pressure on. Contact your Senators and Representatives. Most importantly, contact Gwen's Senators and Rep, contact info listed above, even if you're not a MN native. CALL, CALL, CALL!!
They receive hundreds of emails everyday so emails may be overlooked. We need to flood the Senate offices with calls. As you can see, other dogs were allowed to leave. Why was Ratchet and Gwen singled out? Time is running seriously short on Ratchet's chances to get out of there alive.
Please, please, please… help!
On an interesting sidenote, here a story about one of the dogs who was no doubt on the same flight that Ratchet was supposed to be on. Casper arrived safe and sound at his new home Wednesday. He'll be quarantined for 45 days to make sure he's healthy and there's no chance of disease, then he'll be with his family. So see, it does work!
Contact Information
Gwen Beberg is with the 101st Airborne. Their home base is Fort Campbell, Kentucky.
Their Public Affairs office phone number is: 270-798-3025.
The Base Commander is: Major General Jeffrey J. Schloesser
Headquarters, 101st Airborne Division
Fort Campbell
39 Normandy Boulevard
Fort Campbell, Kentucky 42223-5617
Thanks Andrea for providing the information!
Now that we have the info, calls and letters can be sent. Calls should be a priority because the last chance that Ratchet has to get out is on the 10/15 Operation Baghdad Pups transport.
More Media Coverage
The Minneapolis Star Tribune also did a wonderful write-up of the story on Gwen and Ratchet. They tell you how Gwen found Ratchet as a tiny puppy in a burning trash heap in Baghdad and how he was taken from the convoy on Oct. 1 as he was on his way to the airport to start his trip home.
The online petitions have garnered over 8000 signatures in support of Gwen and Ratchet and even Gwen herself has signed.
"Please, please let my dog come home! Ratchet is everything to me!" she wrote. "I couldn't have made it through this deployment without his wagging tail and understanding eyes. This is unbelievably important to me, my family, my friends, and even perfect strangers who have taken up the cause."
Though Beberg has not been on the front lines, serving in a war zone has been traumatic, her mother said. Ratchet has been a comfort.

"There are a lot of ways of being scarred other than the physical," Pat Beberg said. "My daughter has had a really tough time over there, living in those circumstances, and the dog has been just a godsend to her."

Pat Beberg has called the offices of Rep. Keith Ellison and Sen. Amy Klobuchar for help, but it's not clear what will happen. She also said it is not clear where Ratchet is, but he apparently is still alive.

"We're all sending e-mails back and forth," she said. "Everyone is working on this. I know the military has its rules, but I think it could be some very positive PR if they were to revise and review that ruling … The military is very concerned about post-traumatic stress and high rates of suicide. When my daughter called here a week ago, she had trouble talking on the phone. She's devastated."

Terri Crisp, program director of Operation Baghdad Pups, said the group has gotten 56 dogs and cats that had been adopted by military personnel out of Iraq. As a part of SPCA International, the group uses donations to fly the animals to the U.S. on commercial and private airlines. On Oct. 1, the group had flown to Baghdad to get Ratchet and 14 other animals after suspending operations during the heat of summer. Crisp said the group has tried to keep a low profile so there's no "ruckus" over the Army's no-pet rule.

"There are commanding officers there who are animal lovers and recognize that these animals make a difference," Crisp said. "We've had high-ranking officials bring out animals themselves."

Ratchet, she said, has been the only animal confiscated once the evacuation process had begun, but at least 36 other animals that soldiers were trying to get out of Iraq have been destroyed.

"To me, it's totally senseless, because they took away something that could help soldiers, and this just causes more trauma for them," Crisp said.
I think one of the things that bothers me the most, aside from this entire situation, is why was Gwen's dog, one among a total of fifteen on the transport, singled out to be confiscated??
People keep bringing up the rules and regulations and the fact that there was a dog with rabies on one of the transports, all valid reasons to a degree… if none of the dogs were allowed to leave. But why only one? Why was Gwen's Ratchet, of all the animals, singled out and removed??
On Friday, Beberg wrote that she was transferred to a staging area in preparation for her trip out of Iraq in November.
She was demoted Friday from sergeant to private first class but stated in an e-mail that the demotion had nothing to do with attempting to take Ratchet home.
Just before she was transferred Friday, she went to check on Ratchet.
"I found no leash, no dog, no trace," she wrote. "The incoming unit replacing mine has said they do not want the dog. I'm almost crying too hard to type."
So where's Ratchet now?? There's no word yet that I've heard. If anyone hears anything, please pass the word along. This is not looking very good… for Gwen or Ratchet at this point. 🙁
Ok, Ratchet has been found. Details are not complete, no surprise coming by email from Iraq. Anyway, Ratchet was found in a meat freezer.
Looks like the Chicago Tribune picked up the story and I'll post what they say;
"I just want my puppy home," Sgt. Gwen Beberg of Minneapolis wrote to her mother in an e-mail Sunday from Iraq, soon after she was separated from the dog following a transfer. "I miss my dog horribly." Beberg, 28, is scheduled to return to the U.S. next month.

"I'm coping reasonably well because I refuse to believe that Ratchet has been hurt," Beberg wrote in the e-mail to her mother, Patricia Beberg. "If I find out that he was killed though — well, we just won't entertain that possibility."

"They knew about the regulation," Patricia Beberg said, "but excuse me, you're not going to throw the puppy back in the burning pile." She said Monday that her daughter sent another e-mail saying that she confirmed that the dog was still alive and doing OK. Apparently, someone had stashed him in a meat freezer.

Operation Baghdad Pups' program coordinator, Terry Crisp, left for a flight to Dubai on Monday and is scheduled to arrive in Baghdad on Wednesday. Crisp said it wasn't clear who put the puppy in the freezer, whether it was done to hide him or to freeze him to death, or whether the freezer was operational. Ratchet has since been taken out of the freezer.

Crisp said that the adopted dogs left behind face a painful death on Iraqi streets.
Crisp plans to take 6 dogs out, the max allowable for the cargo hold, and one spot is reserved for Ratchet, if they can get the military to allow his release, otherwise another dog will go.
Keep up the pressure my friends! I know everyone is calling and emailing anyone and everyone, don't stop now! There are just days left before Ratchet's chances run out!
Operation Baghdad Pup's Flight Left Iraq…. Without Ratchet!
Rachet did not make today's flight out of Iraq.
This is directly from the SPCA Press Release
Ratchet did not make today's SPCA International (www.SPCA.com) flight out of Iraq. Just 30 minutes before SPCA International's rescue expert, Terri Crisp, was to lift off from the Baghdad tarmac, the military finally gave Ratchet clearance to be released from his location at COP Meade. The military's slow response has put him at risk because they did not release him in time for today's flight out of Iraq. 6 other U.S. soldiers' dogs are on their way to safety escorted by Terri Crisp, Operation Baghdad Pups program manager.

SPCA International and Congressional officials pursued every measure at their disposal, but the military was too slow to act. Ratchet's fate hangs by a thin thread of hope that he will be kept safe long enough for SPCA International's Operation Baghdad Pups team to return.

SPCA International plans to make another emergency return trip to rescue Ratchet as soon as Sunday.
Now of course the military is saying that they "did not hold "Ratchet" the dog or order it to stay put at the U.S. military base" but the fact that they did not authorize clearance until 30 minutes before the flight left… well, you can figure it out for yourselves.
************
After I saw this update, I couldn't even type, I was so upset. I cannot even imagine how Gwen and her family must be feeling right now. I was in tears! I was so sure with all the publicity that the military would not want the black eye it would get by doing anything that might make this not happen… but they did.
They held things up long enough so that the SPCA could not get him in time to make the flight. And now the SPCA will have to make an emergency trip back, which will cost thousands of dollars more, just because they had to play their games. That's all I can figure it was too. They had to know when the flight was going. No doubt there has been so much contact that they knew every detail yet they had to get the last word in with their little power play.
I hope to God they made sure that Ratchet is safe and sound until the SPCA can get back there and rescue him! DAMN THEM!
And the petition that had not even been created when I first posted this story now has almost 47,000 signatures!! Since the major media outlets got involved this story has gripped the hearts of not only this nation but the world. I have seen news stories from the UK and a friend of mine in Australia sent me one last night that was published there.
The eyes of the entire world are on the US Army and Ratchet right now and the pressure will only increase until Ratchet is home in Minneapolis where he belongs with Gwen family until she is home as well!
UPDATE – 10/19/08 – Ratchet is On His Way Home!!!
The Iraqi puppy adopted by an American soldier but initially blocked by the military from traveling to the United States is finally en route to his new home.

The Society for the Prevention of Cruelty to Animals International says Ratchet was picked up in Baghdad on Sunday and was placed on a charter flight.
WoooHoooo!!! What wonderful news!!! Now this has really made my day and I know this is the news so many people have been waiting for! 😀
Email This Post
Like this post? Subscribe to my RSS feed and get loads more!