Missing $15K Dog Reunited with Owner
Tuesday, February 19th, 2008 at 8:07 am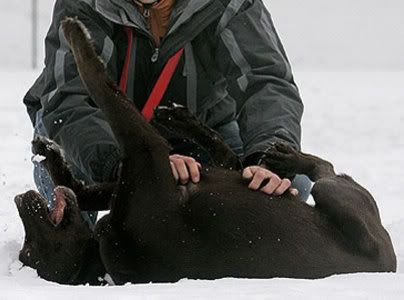 It was a relieved Bert Clark who spoke with friends and reporters yesterday after being reunited with his missing dog, Huckleberry, overnight. And yes, as he promised, Clark did shell out the $15K reward for Huckleberry, $10K to the finder, Richard Cassibo, and the remaining $5K as a goodwill donation to the Banks Animal Hospital on Coxwell Ave as requested by Cassibo.
The handover took place at midnight.

Bert Clark waited anxiously on a dark city street, and then a cab pulled up.

Two people emerged with a chocolate brown Labrador retriever. Clark knew right away it was Huckleberry.

The two – master and dog – went home reunited.

And left a zillion questions unanswered.

Clark, a 36-year-old Toronto banker who doesn't want to get too specific about his work life, set the tale in motion late Saturday when he and friends began distributing some 400 posters offering a $15,000 reward for Huckleberry, stolen that morning from in front of a bakery near Yonge and Roxborough Sts.

And what a tale it's turning out to be.

The mysterious banker. A couple of kids who "appeared stoned," one witness recalled, petting Huckleberry just before he disappeared while his dogwalker enjoyed a bakery break.

A police investigation encompassing seized TTC videos of, perhaps, the crime in progress, the dognappers at work.

Let's not leave out the strange phone calls to Huckleberry's owner, asking if the reward was, like, for real. A "no questions asked" newspaper ad appealing for Huckleberry's return that, on the face of it, appears to be illegal.

And then, of course, there's Huckleberry's mysterious re-emergence, "found" less than a kilometre away by a passerby taking a walk in the Avenue-Davenport Rds. area on Saturday, brought home to a friend's house, only to be turned over to Clark Sunday night in exchange for that $15,000 reward – $10,000 to the finder, $5,000 as a goodwill donation to a local animal shelter.

But Clark's not worried about any of that. He's got Huckleberry back, reunited with his "soulmate."

"I was so relieved," Clark confessed yesterday as he and Huckleberry played in Ramsden Park, surrounded by other dog owners, their pets and the television cameras. The one celebratory note? Orange juice and champagne, brought to the park to toast Huckleberry's safe return.

As for the dog, well, he wasn't feeling too chipper – a case of the runs, actually, probably the result of a very nerve-wracking 48 hours.

Huckleberry's disappearance triggered a grassroots campaign in the city's dog community to find the chocolate Lab, described as Clark's best friend.

The 3 1/2-year-old, who had been with Clark since he was an 8-week-old pup, left a huge hole when he disappeared from Le Petit Gourmet café.

Dogwalker Shannon Howard had left Huckleberry, leash firmly looped through a pipe at the front of the bakery, when she nipped in for a break.

Five minutes later and he was gone.

Nobody really saw anything. One bystander talked about seeing a couple of kids petting Huckleberry just before he vanished. They "appeared stoned," perhaps they were arguing.

Clark, in Florida, flew back immediately on hearing the dogwalker's dognapping tale.

He set to work and, for the rest of Saturday and most of Sunday, stood anxiously by the phone as his friends and relatives fanned out across the city with posters proclaiming that humungous reward – probably one of the biggest in Toronto's missing pet history.

Then, at about 9 p.m. Sunday, deliverance! Clark got a call from police saying someone called in to report finding Huckleberry. For the next couple of hours, the frantic dog owner negotiated for his pet's safe return.

"I tried not to get my hopes up too much until I had him back," he admitted.

The caller told Clark that a friend, out walking, found Huckleberry tied up shivering near Avenue and Davenport Rds. Saturday, took him to the caller's house, who phoned police the next day.

Clark got the first call just after 1 p.m. Sunday, the caller wanting to know if that $15,000 reward was serious.

"Yes," Clark replied. The line went dead. Soon after, another call. In the background Clark could hear a man and woman arguing. Then he was asked if Huckleberry wore a green collar.

"Yes," Clark replied. The line went dead again.

It was enough to start Clark getting the reward money ready.

And yesterday morning, Clark met with the caller, Richard Cassibo, gave him a cheque for $10,000, and agreed to make a donation of $5,000, at Cassibo's request, to the Banks Animal Hospital on Coxwell Ave.

Cassibo, who isn't talking, also ducked an invitation to join Clark and Huckleberry for the neighbourhood celebration at Ramsden Park.

No matter. With the anxiety of the past 48 hours behind them, Clark and Huckleberry played happily in the park as a steady stream of dog owners stopped by to congratulate Clark on the safe return of his dog.

"Hey, little man," Clark said affectionately to Huckleberry as the pair frolicked in the snow. "He'd like me to chase him right now, but I'm not up to it."

Meanwhile, police are continuing their investigation. "Hopefully, we can determine who actually stole the pet," said Toronto police Det. Rob Ermacora.

And Clark may have one more question to answer. Turns out it's illegal – against the Criminal Code – to advertise a reward for the return of something, as Clark did in yesterday's Star, with "no questions asked."

In this case, however, Ermacora said he couldn't foresee police laying charges over the ad.
(The Star)
Email This Post
Like this post? Subscribe to my RSS feed and get loads more!