Montana Kennel Shut Down, Dogs Seized
Friday, January 2nd, 2009 at 10:23 am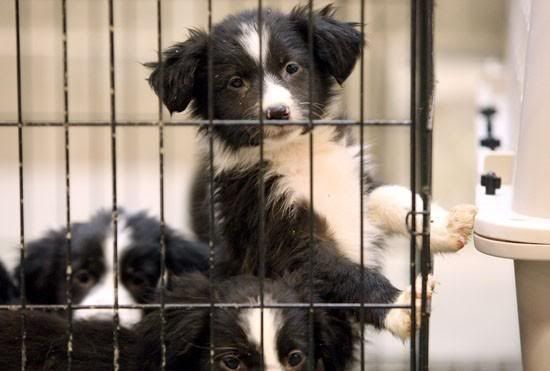 For the second time in less than a month, authorities armed with warrants hit a Ballantine, Montana dog breeder, Linda Kapsa.  Earlier in December 10 dogs were seized and 13 dead dogs were found.  Earlier this week, 189 dogs were removed and another 11 dead dogs were found, 10 frozen outside and one laying beside Kapsa's bed.
"The law of the West is you don't abuse your animals," said County Commissioner Jim Reno. "Leaving little puppies out in below-zero weather, outside, without obvious food or shelter — that doesn't make it here."
The seized dogs were all English Shepherds but authorities are wondering where the 50 pugs they had seen last time at shady Lane Kennels disappeared to.
The dogs were living in dilapidated outbuildings, mobile homes and running loose, many without food, water or shelter.  Many were covered in feces, matted fur, ice, and suffering from parasites, malnutrition and exposure. Most of the dogs were shy and timid, totally unused to human contact.
"They don't know how to take treats from us. They've never had a treat," said Tonya Davison, a volunteer from the Beartooth Humane Alliance.
This is also not Kapsa's first brush with the law over her kennel;
In 1993, Kapsa was ticketed for animal cruelty. At that time, the sheriff's office seized 120 dogs and returned 20. Since then, she has been ticketed for rabies violations, dogs at large and other misdemeanor animal violations. The most recent investigation came after animal control officers received a complaint from a person who was interested in buying a dog from Kapsa. The buyer described her property as "horrendous living conditions."
After the dogs were seized and removed, they were examined, given shots and microchips, tested for parvo and are being cared for by volunteers in a temporary shelter in 48 sawdust-filled horse stalls at MetraPark.
Three pregnant dogs, several sick dogs and numerous young puppies were taken to local veterinary clinics, and more dogs may have to be treated after a second health evaluation.
"As soon as we let them out of the crates, they dove into their food bowls," said volunteer Rhonda Dillman of the Yellowstone Valley Kennel Club. "Quite a few were food-aggressive, which means they hadn't had much to eat."
Yellowstone County needs donations to help care for the dogs taken from Shady Lane Kennels. Donations can be sent to the Yellowstone County Sheriff's Office Animal Rescue Fund, 219 N. 26th St., Billings, MT 59101.

Dog food donations are not being accepted. An initial donation of food and treats was made by PetSmart, and when it is depleted, caretakers plan to continue to feed the dogs the same brand of food to minimize the potential for upset digestive systems. Many of the dogs' digestive systems are fragile from malnutrition and chronic diarrhea.

Donations of blankets and old towels would be helpful, organizers said, but since facilities are not available to wash them, they will likely be used only once and discarded to minimize spread of disease.

Committed volunteers are needed right away to clean kennels and feed and socialize the dogs at MetraPark, said Catherine Schaeffer, manager of the temporary shelter.

Since the dogs are timid and sometimes aggressive, volunteers need to be 16 years or older and be experienced with animals, especially dogs, Schaeffer said.

Schaeffer and Yellowstone County Animal Control Officer John Fleming also need a heated trailer or motor home for a command center at MetraPark, postage, a printer/copier/scanner and a photo printer, said Schaeffer.

For volunteer information, leave a message for Schaeffer at (406) 248-2388.
To date, no charges have been laid against kennel owner, Linda Kapsa, but hopefully that will be coming after the dogs are further evaluated and the legal beagles get a chance to sink their teeth into this case.This woman has gotten away with neglect and more, time and again.  It is far past time for her to pay for her crimes. She has dealth innocent creatures nothing but abuse, neglect and death and the public and taxpayers continue to literally pay for her "mistakes".  The law has got to get serious about this kind of blatant abuse and shut people like this down.
Email This Post
Like this post? Subscribe to my RSS feed and get loads more!