More than 100 Starving Pitbulls Rescued
Monday, December 8th, 2008 at 9:12 am
Last week an anonymous tip led authorities to a property in the 7500 block of East Dry Road, seven miles west of Newkirk, OK. What greeted them when they arrived was 96 pitbulls, starved, emaciated, dehydrated and a number of them injured. Most were on 3 foot chains and had been there so long that deep groves were dug, some almost a foot deep where they paced their days away.
One of the dogs was dead at the end of its chain.
They found 10 dogs living in a barn in pens  in filth without food or water. There was at least five inches of feces in the barn where they were found and another 10 puppies were found in the rental house, one of which died.
"On three-fourth of them, you could see their rib cage and back bones," Kay County Undersheriff Steve Kelley said. "None of them had any food or water.
"They were mostly on three-to-four foot log chain stakes in the yard," he said.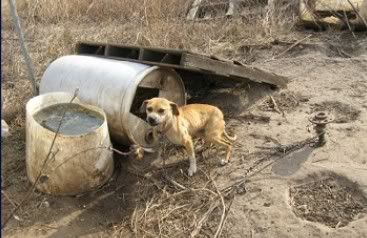 Although Jerry Southern, 32, said he raised the dogs to sell, due to some of the injuries, there is also a question of possible dog fighting.
Two of the dogs had to be euthanized due to the seriousness of their conditions.
"There was only one dog with an ideal score – most others received a score of one or less," Dr. Sanders of the Westside Animal Clinic who evaluated the pit bulls for body condition and health status said. "The majority of the dogs were very thin to emaciated and very cold.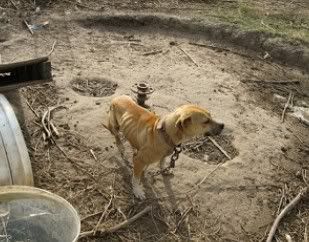 "The dogs that were chained had plastic barrel houses with little to no bedding and the ground was covered with old and dry feces, " Sanders said.
"A few of the dogs had obvious injuries," she continued. "One small black dog was literally missing the end of her nose. She looked to have been wounded in the past and healed back without nostrils. One large, white male was missing part of his tail with the remainder having large, open wounds."
When Southern was arrested, his bond was only $5000. On Thursday a judge increased that bond to $250,000. Southern is charged with 106 counts of animal cruelty and one count of possessing dogs for fighting, each of those counts is a felony.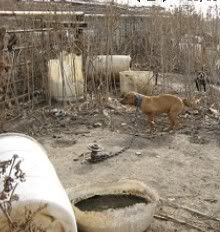 Now a little background on this piece of human waste. Southern doesn't live in Oklahoma at the property where the dog lived in a hell of their own, he lives in Wichita. Thing is, he was banned in Wichita from owning pitbulls due to past cruelties so he just crossed state lines and set up his operation there. He also has a long rap sheet going back to 1994. This is a real price of a guy.
Right now there are some donations coming in and jail trustees and deputies have been working on feeding and caring for the dogs. Most of the dogs are just desperately hungry, only a couple possibly too aggressive to be adopted. The sheriff's office is working with several organizations to find both temporary and permanent homes for the surviving 102 dogs and puppies.
Email This Post
Like this post? Subscribe to my RSS feed and get loads more!