More than 1300 Puppy Mill Dogs in Need of Homes – VIDEO
Saturday, July 19th, 2008 at 9:21 am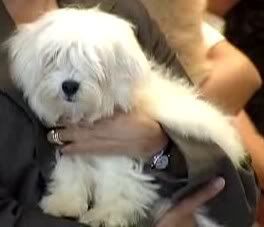 More than 1300 dogs from Puppy Haven Kennel in Green Lake County, WI, will finally be getting a new lease on life thanks to the Wisconsin Humane Society.
For years, WHS has been trying to shut down the huge puppy mill without success, until now. To end the exploitation of the hundreds and hundreds of dogs locked in their prison misery of this puppy mill, WHS bought Puppy Haven Kennels and now it's finally time for theses dog, who were used as nothing but money making breeding machine, to learn there is much more to life.
Now the organization must find homes for more than 1,300 dogs.

"None of these dogs have ever been called by a name. They've never had a bed. They've never had a toy. They've never had their own food bowl. They've never been cuddled by a person," said Victoria Wellens, executive director of the Wisconsin Humane Society.

Wellens says the humane society is changing all that, by saving more than a thousand dogs from a life of exploitation with its unprecendented purchase of Puppy Haven Kennel, one of the largest dog breeding facilities in the nation.

"Dogs like Murphy and 1,299 others will leave behind a life of being used solely for producing puppies," said Margaret Stratton, president of the board of the Wisconsin Humane Society.

Instead, all the dogs from Puppy Haven will be spayed or neutered and given medical care.

"We haven't found any infectious diseases. We found a lot of dogs with bad teeth" because of their diet, said Dr. Randy Zeman, veterinary director of the Wisconsin Humane Society.

The dogs will also be socialized to people. Those who adopt them will be offered classes to help their new pets become house trained and get over their shyness.

"Some of them, mostly the males, haven't had any contact with people," said Wellens.

The humane society says it needs money, supplies, and loving homes for these dogs.

You can check out pictures of these pups and read their stories at Wisconsin Humane Society. (CBS58)
Major kudos to Wisconsin Humane Society!! They've definitely got their work cut out for them. If you can help, bu adopting, donating, volunteering, please contact them!! There's a lot of dogs that are going to need a lot of love and care 🙂
Puppy Haven puppy mill closed down, more than 1300 dogs in need of homes
Email This Post
Like this post? Subscribe to my RSS feed and get loads more!