More than 60 Dogs Rescued from Shelby County Puppy Mill
Sunday, February 3rd, 2008 at 8:34 am
Although raids of this type are supposed to be completely unannounced, this one was not and Patricia Kinny managed to move dozens of dogs from her Shelby County property before authorities showed up on Friday. More than 60 dogs were rescued, from squalid conditions from the unlicensed kennel including Jack Russels, Dachshunds, Min-Pins and Rat Terriers, a number of them pregnant.
Situated about 100 yards behind the house in an unkempt yard, the dogs were housed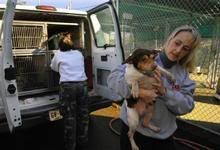 outdoors, in the freezing temperatures, in about 40 wood and wire cages on stilts, many covered with blue tarps. Inside and underneath the cages were piles of feces and filth.
"This is what we find at puppy mills. People think it is a money making process, but it's not — it's animal cruelty," said Nina Wingfield from the Collierville Animal Shelter.
The investigation started earlier this week when a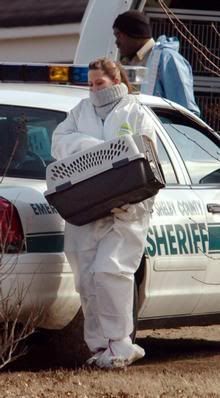 complaint was made by someone who purchased a dog from the illegal kennel that because sick. When the Health Department contacted Kinney and visited the property more than 100 dogs were on site. By the time they were able to return to the property Friday, only 63 dogs remained and were removed.
Although most of the dogs seems to be in relatively good shape, some were sick. The dogs will be available for adoption after they are health checked by vets. Since area shelters are full, local vets are housing the dogs till they can be adopted.
As for Kinney, she did voluntarily surrender the remaining dogs at the kennel which will make it easier so they can be adopted. She will only be cited for zoning violations and operating a kennel without a license. Most probably she will only face fines.
"It is up to the judge," said Shelby County Health Department Manager L.C. Garth. "More than likely it will be a fine but I'm not sure. It will be up to the judge on what to do with her in this particular case."
It's sad that dogs can be subjected to living like these poor dogs were and the most the person who put them into that situation will face is fines. And what about the dozens and dozens of dogs that were removed from the property? Looks like she all set to start again.
Source – Commercial Appeal
Email This Post
Like this post? Subscribe to my RSS feed and get loads more!