More Than a Year Later, How's Miracle, the Puppy Tortured & Burned by Kids? VIDEO
Thursday, February 12th, 2009 at 8:54 am
This is Miracle in November of 2007.  She was the only survivor of her litter of four puppies. Some kids, teens as described by a witness, carried the puppies into a abandoned house in Detroit, hog-tied them and set them on fire.
Severely injured, the then 4 lb., 8-week-old black and tan pit bull puppy, sustained third-degree burns over 20 percent of her body, second-degree burns over 20 percent of her body and first-degree burns over 40 percent of her body.  She was named Miracle by the officers who rescued her.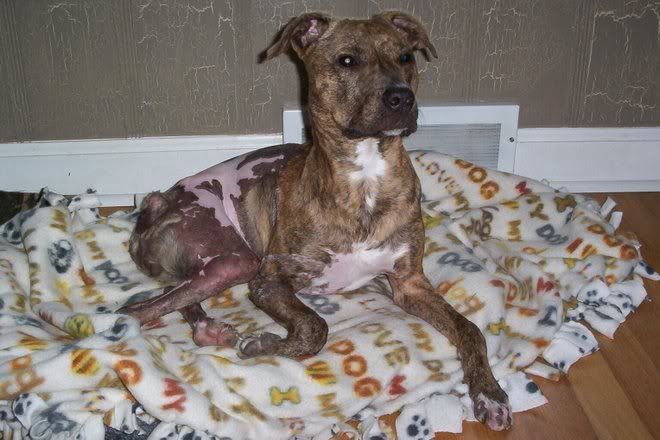 Now, more than a year later, after many, many surgeries, rehab and a lot of love and care, renamed Madison, that tiny puppy has come a long way and truly lived up to the name she was originally given.
Madison will forever bear the scars of the torture she received as a puppy and sadly the vicious little monsters were never identified. You can read the background story HERE.
But Madison, considering everything she went through, is doing fantastic and she has a home to call her own.  That's right, she was adopted! One of the staff veterinarians that had cared for her through all of her traumatic surgeries and her painstaking rehabilitation adopted her.
This is from the Justice for Miracle blog and was posted when she was just a year old;
She can run & jump & outplay most dogs her age but still needs a special boot on her one feet. She will negotiate a few stairs if she is motivated but has ramps at home that she loves. She recently completed the 2 mile Tear Foundation Fundraiser walk and had a lot of fun with all of the other dogs. She loves to chase her Frisbee in the field and is an excellent retriever! Madison also loves to swim but wears a life jacket "just in case". Just like a small child, she can be difficult to get out of the water to go home. Sometimes, she plays too hard & needs to be carried home. She continues to come to work daily and loves all the attention that she can get.
It's always wonderful to be able to show these heartwarming updates and would have been ever better if police had been able to catch the scum that did this to her but sometimes we have to take what we can get and be thankful for it. Madison is one of the lucky ones.
Email This Post
Like this post? Subscribe to my RSS feed and get loads more!