Mother Dog and 6 Puppies Thrown in the Trash
Saturday, December 29th, 2007 at 8:23 am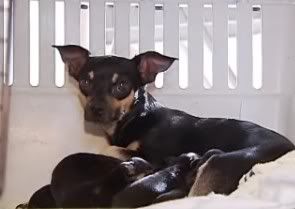 Baldwin County, FL – Playing children heard whimpering coming from a dumpster on Upper Bryant's Landing Road in Stockton. They alerted an animal control officer and when he investigated he found a MinPin-Chihuahua and her 6 puppies in a wooden box thrown inside the dumpster like trash.
The mother dog and her puppies, who were estimated to be only two weeks old, were taken to Baldwin County Animal Control. They will stay there until the puppies are old enough to be adopted in February.
"Pets are not garbage." said Kathy Eddy, the executive director of the Baldwin Animal Rescue Center. "This is not the right way to deal with unwanted puppies. I'm saddened to think someone couldn't take the time to take the mother and pups to an animal shelter where they would have been treated humanely."
Whomever is responsible faces animal cruelty charges. "Under the Gucci Act, a six month sentence can be imposed for each of the seven abandoned dogs," Eddy said.
This was a cruel, heartless and senseless act!  Luckily these babies and their mother were found before it was too late.  How easily they could have gone into a trash truck and been killed if no one had heard their planitive cries.
Someone out there, aside from the person who did this, knows something.  There's no telling what someone who is so devoid of conscience could do next.  Please, anyone with information about this, call the Baldwin County Sheriff's Office at 251-937-0202.
Source – WKRG
Email This Post
Like this post? Subscribe to my RSS feed and get loads more!