Narcotics Dog Makes $100K Bust First Day on Job
Sunday, July 6th, 2008 at 8:55 am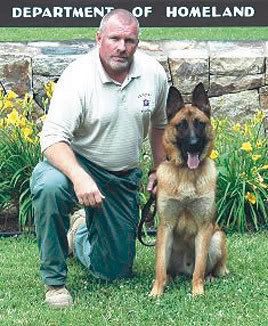 Just off a 13 week training course, Drug Enforcement Investigator Sonny Smith and 1 1/2 year old German Shepherd, Chico, a trained narcotics dog, made a big hit or bust the first day on the job, worth about $100K! Way to go Chico!!
You've got to have the greatest respect for these dogs and their handlers. Sure, we're heard some stories that are not so positive but all in all, these incredibly trained service dogs and their handlers are an unbeatable team. The dogs are true canine heros!
Chico, who was provided by the U.S. Customs and Border Protection to Denton County, was trained at the Canine Enforcement Training Center in Washington, D.C. The training is designed to teach law enforcement officers all aspects on handling, training and employing a detector dog.
"The dogs are worth $15,000 but we were able to get this one for $5,000 because of Sonny Smith, who has an excellent reputation in law enforcement," said Sheriff's Capt. Jeff Wawro.
"He's a very passive dog," Smith said. "Not aggressive with people. They train them to be very independent of their handlers. He has a routine that he does on his own with a people search. He does it for his reward, which is his towel. He's very possessive of his towel and he knows he will get it afterward."

On Monday, Smith and Chico visited a bus stop at the TA Travel Center about 1:30 p.m., Wawro said. The bus driver gave Smith permission to search the baggage compartments as the passengers left the bus. When the officer and dog entered the cabin of the bus, Smith noticed that one man had not exited and was sitting on a back seat.

"Chico walked up to the seated passenger and as he got close, he alerted by sitting and staring at the passenger," Wawro said.

Smith found 2.2 pounds of cocaine with a street value of $100,000 hidden in the man's clothing, authorities said.

Gorge Leal Sandoval, 42, of Brownsville was on his way to Wichita, Kan., Wawro said. He is being held in Denton County Jail on a charge of manufacture or delivery of a controlled substance in lieu of $50,000 bail.

"I've never supervised a dog before," said Smith's sergeant, Jeff Davis. "It's really neat and I'm very excited about it. Chico has a different certification than other drug dogs. He's able to do people searches. He's a puppy and very friendly. He walks up to people and puts his nose near them. If they have something on them, he sits down and stares at them.

"You can't get him to break that stare until he's released. You can wave your hand in front of his face, pull his ears. Nothing breaks that stare," Davis said. "We got that big a hit the first day. It's going to be a great program." (Denton Record-Chronicle)
Now that's what I call a dog that earns his kibble! Go Chico!!
Email This Post
Like this post? Subscribe to my RSS feed and get loads more!