NC Gas Chamber Explodes with 10 Dogs Inside – VIDEO
Thursday, July 24th, 2008 at 8:16 am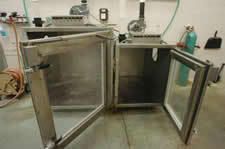 Archaic, barbaric, cruel, inhumane; these are just a few words that can be used to describe this outdated method of euthanization and thankfully, only a few states still use it. Euthanasia, which means 'good death' is certainly not accomplished in a gas chamber as extreme animal suffering is well documented.
Less than 1% of shelters actually still use this method, in many states it is even banned. In North Carolina where is occurred, 67 counties have already moved to the more humane method of lethal injection but in at least 30 counties and cities, gas chamber euthanization is still used.
Witnesses have seen animals struggling and wailing for up to ten minutes before death in gas chambers, some biting themselves and each other in panic, beating their heads against the chamber walls, choking and vomiting. Groups of up to 25 animals are gassed together. Inhalant gases are not approved for euthanasia of baby animals, for very old, sick or pregnant animals, since they may not inhale enough gas to die. Yet in North Carolina, they are often gassed together. Some will not die the first time.
And now, an explosion at one North Carolina shelter. This happened on Tuesday at Iredell County Animal Services shelter. There were ten dogs inside at the time and although the AMVA say that the gas chamber should be under supervision at all times, no one in the shelter office even heard the explosion. Guess it was a good thing no one was following the rules at that time.
**Received a follow-up note from Tracy Jackson, Asst. County Manager, Iredell County, see comment 12/15, that the chamber was under supervision…
An employee of the Animal Shelter was present when the incident occurred and notified the front office at which time 911 was contacted while the building was evacuated. The office and the euthanasia area are separated by several rooms with block walls so it is not unusual that no one in the office heard the electrical arc which is actually more like a loud popping sound.
Officials say that until it is determined that their gas chamber is safe again, they will use lethal injection. It would have been hoped that especially after this horrific incident that they would have decided to forgo this cruel and inhumane method!!
One of the biggest proponents for gas chamber use in NC is a veterinarian himself, Dr. Ralph Houser, DVM. Houser is also a manufacturer of the chambers from hell and a member of the state's Board of the North Carolina Animal Rabies Control Association. Although the AMVA advocates lethal injection as the most humane method of euthanasia, it's no surprise that Houser is against it. He doesn't want anyone taking money out of pocket! It is believed by many that he is single handedly responsible for the reluctance of the state's Board of Agriculture to ban use of this cruel, medieval device.
Not only are are these hell chambers cruel and inhumane to animals, they are also dangerous to shelter workers who have to operate them. At least one Tennessee shelter worker died which led to Tennessee's ban on the gas chamber.
North Carolina Coalition for Humane Euthanasia reports that recent inspections show some gas chambers have leaked high levels of carbon monoxide and endangered county employees and three county employees operating gas chambers in North Carolina have died in recent years.
And still there is no law banning gas chamber use!! What is is going to take??
Is there anything that you can do? Of course there is!!
WHAT YOU CAN DO
Write letters to the Office of Administrative Hearings, Rules Review Commission, 1307 Glenwood Avenue, Raleigh, NC 27605 and urge them to adopt a ban on animal gas chambers.
Call Agriculture Commissioner Steve Troxler at 919-733-7125, and
Chamber of Commerce Pres Lew Ebert at 919-836-1407 and urge them to end the use of animal gas chambers in North Carolina.
Email North Carolina Governor Mike Easley and urge him to request the introduction of legislation which would override the Commissioner of Agriculture's removal of the board's recommendation to end the killing of pets by carbon monoxide gas. Gov. Easley has refused to request this legislation, claiming "aggressive dogs are safer to kill by gas." But actually, it is safer to sedate the animals first and then use a lethal injection. Most shelters use injection to euthanize even aggressive dogs, including 67 of North Carolina's 100 counties. Send Gov. Easley this link.
You can also call or fax a letter to the Governor: 1-800-662-7952 if you live in North Carolina and (919) 733-4240 or (919) 733-5811 for out of state calls; Fax (919) 733-2120.
Click here to email North Carolina legislators and urge them to adopt legislation banning use of animal gas chambers.
Click here for names and contact information for all N.C. House members.
Click here for names and contact information for all N.C. Senators.
Contact Iredell County officials and urge them to use lethal injection and not go back to the animal gas chamber.
Joel R. Mashburn, County Manager; jmashburn@co.iredell.nc.us
Phone: (704) 878-3050
Fax: (704) 878-5355
Jean Moore, Clerk to the Board of commissioners; jmoore@co.iredell.nc.us
Tracy Jackson, Assistant County Manager; tjackson@co.iredell.nc.us
I want to thank Animal Law Coalition for much of this information. Their site is a font of important facts and information about animal law and legislation countrywide.
WARNING!! The following video is not for the faint of heart!!!
It shows actual footage of dogs being taken to the gas chamber and being gassed.  Although it was shot in the 90s, things are no different now!
Please, whether you are a NC resident of not, I beg of you to use to contact information above and contact anyone and everyone.  Let them know that you will boycott NC and any and all NC goods is changes are not made.
Actual Video of Dogs being Gassed!
Email This Post
Like this post? Subscribe to my RSS feed and get loads more!