NC Personnel Comission to Hear Charles Jones Case Today
Thursday, August 21st, 2008 at 7:38 am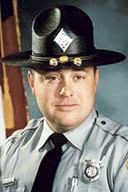 UPDATE 10/18/08 – NC Personnel Commission Verdict In – Reinstate Charles Jones
Update – See Update Below on Hearing
We all remember NC Trooper Charles Jones who was fired after he was videotaped hanging and kicking his K9 partner, a Belgian Malinois named Ricoh. He sued the department to get his job back and Administrative Law Judge Fred Morrison recommended that he be reinstated and get all his back pay.
Shortly thereafter it became public that Jones had been working as a patrol officer for Apex, NC police department since four months after his firing.
Today the issue goes before the Personnel Commission, which is scheduled to hear arguments at 9 a.m. from lawyers for Jones and the Patrol.
This is, in theory, the last step, although either side can appeal the outcome of the Commission's decision.
So, this case may still be far from over….
You can read all the background, as well as see the video that propelled Charles Jones into the hot spotlight in infamy;
Now that the furor of this has died down, I hope that he's not going to just be quietly reinstated. He must stand as a message that animal abuse will not be tolerated and that those who are in a position of authority cannot abuse that authority and are not immune to the very laws they are sworn to uphold.
Update – Although it is not known at this time when the decision will be handed down and as I said, that will still probably not be the end, here's an excerpt of what went on during the hearing;
Jones was a "fine trooper," according to his lawyer, Jack O'Hale, and had to be forceful with Ricoh, which some in the Highway Patrol described as a "maniac on a leash" and a "crackhead."

"Ricoh is a weapon. He was trained to bite. He has 1,400 pounds-per-square inch bite force," O'Hale told the commission. "When you're dealing with deadly weapons, you have to have vigorous training."

Jones said he disciplined Ricoh the way he was trained. The highway patrol saw it as abuse and fired him.

"(Jones') actions speak for themselves. The video is clear," said Assistant Attorney General Ashby Ray, who represented the patrol. "He kicked Ricoh not once, not twice, but five times.

"(This) was not what he was trained to do, not consistent with his training, not acceptable personal conduct."

Although the highway patrol's training manual doesn't list unacceptable training techniques for K-9s, Ray said common sense should tell people that kicking a dog would fall into such a list.

"The patrol doesn't have a policy that says we can't wrap a dog in a blanket and throw it into a river, but no one here would think that was acceptable just because we don't have a policy that says you can't do it," he said. (WRAL)
I especially like that last line! Just because you are not specifically told not to do something, in most cases common sense should prevail and you should know what is acceptable and what is not.
If something is not acceptable for the common public, such as hanging and kicking a dog, why should it be acceptable for a l aw officer?? If a member of the public were caught doing this same thing, they would be arrested and charged with animal cruelty and Ricoh was more than just a dog, he was a highly and expensively trained law officer as well!
And Video…
Charles Jones before the NC Personnel Commission
Email This Post
Like this post? Subscribe to my RSS feed and get loads more!