NC Puppy Mill Dogs Headed to a Better Life – VIDEO
Friday, February 13th, 2009 at 8:27 am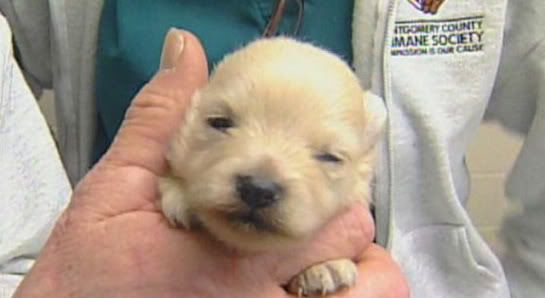 Almost 300 dogs and puppies were seized from a Wayne County, NC puppy mill last week.  The conditions, as usual in one of these hell-holes, were deplorable.
When rescuers arrived at the property they were greeted by a gruesome scene. The dogs, mainly Lhasa Apsos, Shih-Tzus and Chihuahuas, were suffering from serious medical ailments and housed in filthy conditions. Many of the dogs were emaciated, had untreated lacerations, severely matted fur and serious skin and eye infections.

They were being housed in unheated cages inside unventilated barns and outhouses. It was obvious that many of these animals had never known life outside their wire cages. (HSUS)
Now the dogs and puppies are going to have a chance at a real life, out of a cage, away from the neglect and abuse they suffered on a daily basis.
More than six dozen of the dogs arrived at a shelter in Largo and are being made ready for adoption.
Rescued North Carolina Puppy Mill Dogs At Largo Shelter
More of the dogs and puppies made it to Maryland and are being cared for a readied for adoption.
Others went to Norfolk where they were warmly anticipated by people wanted to adopt the dogs and puppies.
It won't be long before all the dogs have been transferred to shelters where they will be evaluated, their medical needs taken care of, they will be bathed and groomed, they will rehabilitated as needed and hopefully all the dogs and puppies will soon be headed for home where they will be loved and cherished as they should be.
The owner of the puppy mill, Thornton Kennels, Virginia Thornton, has not been charged with anything as of yet that I have been able to find out.  Hopefully that will be coming after the year long investigation brought about the seizure of the puppies.
Last Thursday county officials did file an injunction Virginia Thornton claiming that Thornton was "willfully and intentionally" depriving the animals of a proper living environment.
Now, just the wait to see what charges will be filed against Thornton and when.
"The battle is far from over. The HSUS will stop at nothing until criminal charges are filed against the owner of these kennels and she's no longer allowed to operate a puppy mill – and until there are stronger laws in North Carolina protecting dogs in puppy mills," said Scotlund Haisley, senior director of emergency services at the Humane Society of the United States.
Email This Post
Like this post? Subscribe to my RSS feed and get loads more!