NC Trooper Fired for Abuse Suing to Get Job Back – Call to Action – VIDEO
Tuesday, April 29th, 2008 at 12:17 pm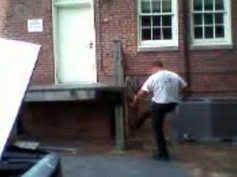 Are our law enforcement officials to be held above the laws they are sworn to uphold and enforce? Some of them obviously thing so!
A hearing began proceedings Monday in a lawsuit that Jones filed against the state in December, alleging that procedures were violated when he was fired.
In September on 2007, Sgt Charles Jones was fired from his position after he was videotaped on August 8, 2006, hanging and kicking his K-9 partner, a 9 year old Belgian Malinois, because he would drop a toy. This was after he had 'helicoptored' the dog, a technique in which a dog is swung off the ground by his leash.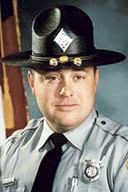 The officer who videotaped Jones with his cellphone, Trooper Ray Herndon, was torn and upset over the episode and did what he thought was best.
"I was torn; I didn't know what to do. Should I go stop him?" Herndon, a 21-year-veteran of the force, testified Monday. "So I did what I thought was right at the time."
One video shows Jones tying the dog's leash to a high railing so that only his hind legs touched the ground. He then kicked the dog's leg four times.

"Then he'd pull him back up a good distance off the ground, using the lead in an attempt to get the dog to lech the toy or let the toy go," Herndon said. He added that he did not think Jones was intentionally trying to harm or abuse Ricoh.

The second video clip shows Jones apparently leaving the dog alone, hanging upright from its leash and collar. (Digitrad.com)
You can watch one of the video clips below – WARNING – it may disturb some viewers
Jones claims the episode on Aug. 8 was not mistreatment. He contends that he was fired summarily without due process and has appealed to get his job back.
Jones also contends that there were no clear training procedures within the patrol for police canines. He also said that Easley, Beatty and patrol officials were over-reacting to other pressures at the time, such as the dog abuse case that sent Atlanta Falcons quarterback Michael Vick to prison, and other cases of trooper misconduct within the patrol. (News Observer)
Jones originally faced a three-day suspension, based on the first video. But patrol Captain Ken Castelloe, who was Internal Affairs director at the time, said he recommended firing Jones after reviewing the second video. He said it showed that Jones' actions were more egregious because he left the dog hanging after it had released the toy.
Bryan Beatty, secretary of the state Department of Crime Control and Public Safety, testified that Jones was fired only after a careful review.
"I concluded that that was not a technique that anyone had seen," Beatty said. "It was not a technique that was acceptable within Highway Patrol policy."
Jones had claimed that he was using training techniques that he had been taught by the Highway Patrol.
I don't see how anyone looking at the video clip can say this was not violent and abusive. This man does not deserve to be a trooper. He does not deserve to get his job back and if it were up to me I would also see him criminally charged with animal abuse!!
*** THIS HAS NOTHING TO DO WITH "TRAINING" and 100% TO DO WITH ANIMAL ABUSE! ***
WRITE or CALL NOW! Go to the courthouse and politely protest. The hearing began yesterday, 4/28 and continues today, 4/29
Administrative Law Judge Fred Morrison, NC Office of Administrative Hearings
(919) 733-2691
Governor Mike Easley — In favor of the firing
http://www.governor.state.nc.us/email.asp?to=1 or governor.office@ncmail.net
(919) 733-4240 or (919) 733-5811
Crime Control and Public Safety Secretary Bryan Beatty — In favor of the firing
(919) 733-2126 or http://www.nccrimecontrol.org/ContactUs.cfm and choose Office of the Secretary in the dropdown
Captain Ken Castelloe, NC State Highway Patrol — Supported firing (not after seeing the first video, which is absurd, but after watching the second video), but makes way too many excuses for the perp officer
(919) 733-7952
Public Information Officer Lt. Everett Clendenin
(919) 733-5027
Reporter — Thank him and ask him to keep this story in the news
dan.kane@newsobserver.com or (919) 829-4861
You can read numerous news accounts of the story for additional details and information:
And yes, the dog, Ricoh, is fine and is now retired from the force.
Please, don't let our law enforcement officials get away with violence and abuse, they are NOT above the law!!
Email This Post
Like this post? Subscribe to my RSS feed and get loads more!