New Life for Cruelly Starved Dog, Jail for Abuser
Wednesday, October 22nd, 2008 at 8:25 am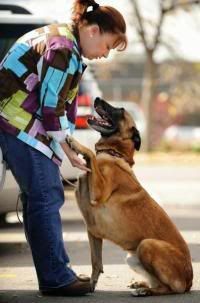 More than a year ago, in August of 2007, when this horrific story came to light, it ripped my heart out looking at pictures of Neeko, a once beautiful Belgian Malinois that had been abandoned in a house by his owner along with another dog. The other dog, a white German Shepherd, didn't survive the abandonment but his death helped Neeko survive the month long incarceration in the empty house.
Kristy Knecht left the two dogs in a house in the 1000 block of South Uvalda Street, Aurora, CO. When Aurora Animal Care investigators entered the home on August 21, Neeko was barely alive, weighing only 30 lbs when he should have weighed about 80.
Initially no one thought Neeko would make it, he was in such sad shape but he wagged his tail and looked in the eyes of his rescuers and they decided to give him a chance. After five months of care, much of it round the clock and thousands and thousands of dollars, Neeko made a recovery that was beyond all hope and was finally placed with a foster family.
In September of 2007, Knecht was charged with two felony counts of aggravated cruelty to animals. The Class 6 felonies which Knecht was originally charged with, carried a penalty ranging from one year to 18 months for each count plus up to $100,000 in fines on each count.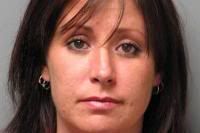 Fast forward to now… Now sure of all the legal machinations but last Friday Knecht pleaded guilty to to one count of aggravated cruelty to animals and a nonaggravated animal-cruelty charge. This is a far cry from the original felony animal cruelty charges and so is the sentence she received. She was sentence to 90 days in jail plus has to undergo mental health counseling. She's also not allowed to have an animal in her possession during a three-year probationary period that will follow her jail sentence.
Added to the sentence is 90 days in home detention after her jail stint for violating the terms of her release on bond by having two dogs in her car while her case was pending.
So she causes the cruel death of one dog and another dog a living death. Thousands and thousands of dollars have to be spent to save Neeko and Knecht gets nothing close to the sentence she should have. Well, I guess we have to be glad that she did get something rather than just a slap on the wrist and them walk away although this is not justice!
Now for Neeko, the amazing survivor. With Knecht's guilty plea, it opened the door for Neeko to be adopted finally. The family who had been fostering Neeko since his release from the hospital formally adopted the dog that they have grown so attached to.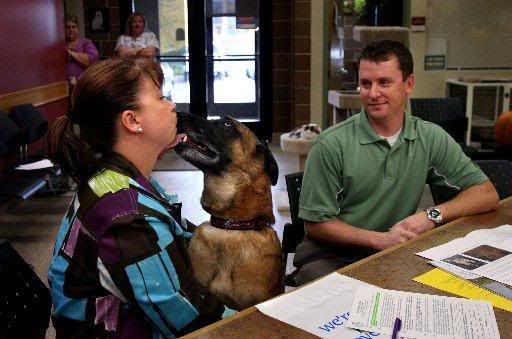 In a bit of a ceremony yesterday, Denise and Brian, along with the now happy and healthy Neeko, sign the paperwork to make Neeko an official part of their family.
Neeko looked pretty frisky Tuesday for a dog who was so starved and dehydrated in August 2007 that he came within a lick of being euthanized.

While his foster owners Brian and Denise filled out adoption papers at the Aurora Animal Shelter, the Belgian Malinois jumped up and put one paw on the desk as if sensing, "Hey, this is our big moment."

That it was. Several shelter staffers had gathered around as one of them handed the ownership papers over to the couple and declared the adoption official. The room broke out into applause.

"It's amazing," said Brian, who spoke on condition that his last name not be used. "I just can't believe the willpower of this dog."

"It's hard to fathom that anything like this happened," he added, alluding to how Neeko nearly starved to death. (Rocky Mountain News)
So from a horror story comes a happy ending for a dog that chances looked slim for. I'm going to concentrate of this part of the story and be thankful and happy that Neeko is happy and healthy and with a new family that will love and care for him as he should always have been.
Email This Post
Like this post? Subscribe to my RSS feed and get loads more!