New Management Says Evict the Dogs!
Sunday, August 5th, 2007 at 7:17 am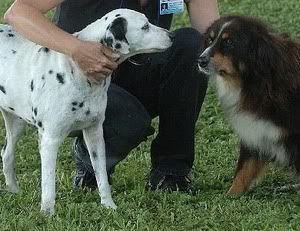 Dottie and Breezeway, two 2004 hurricane strays 'adopted' by Florida Keys Aqueduct Authority's Florida City plant employees are being given their eviction notice by the plant's new management and there are alot of people not very happy about it!
The Dalmatian's collar was embedded in her neck.

The black/brown/white one — some sort of herding dog, most likely — was all matted.

Workers at the 69-year-old plant did what they've done for other dogs and cats dumped over the years on the isolated property: cleaned them up, got them vet care, "adopted" and named them.

Now the two — "inseparable," said Mike Tam, the plant's division director of production and transmission — are facing an uncertain future.

The authority's top brass has declared them canines non grata and told Tam to move them out.

"Our concern is that we don't want to separate them," Tam said. "They're like soul mates. . . . They're great dogs — no trouble at all. They've never bitten anyone."

Workers called the Dalmatian Dottie, for obvious reasons, and the herder Breezeway, because they took up residence in a stairwell off a breezeway.

Tam described Dottie as 'dominant'. If a male shows up, the Dal takes over and fights the male off, but she's all bark and no bite."

He said that some of the plant's 30 employees — who aren't happy about losing their furry friends — make sure the dogs eat and get vaccinated.

"They don't get a lot of attention, but they have each other, so they don't really need anybody else."

Employees also care for a stray cat at the plant, where foxes, raccoons, perhaps even bobcats and panthers roam.

The dogs constitute a health and safety risk, said Jim Reynolds, executive director of the authority, which provides fresh water to Monroe County.

"We've had management changes, and they've decided to take action," he said. "We don't allow pets in any of the [nine] other installations in the Keys system. We've tolerated it because we feel bad about the dogs."

But, he added, "the well field is there, and to have dogs do their business on the yard is not good, perception-wise. We have members of the public come visit, and what if they happen to bite someone? They're probably good dogs, but you don't know until you know."

Dianne Alexander, a financial consultant and animal lover whose husband works at the plant, said that Dottie and Breezeway must stay together.

'Shortly after they arrived at the plant, one of them was adopted; neither of them would eat during the separation, and she was finally brought back to be with her `sister.' "

She said that having dogs at the plant is a tradition dating to World War II. At least one resident dog is buried there: Lady, a Labrador retriever. And a brass plaque commemorates K2, a dog that showed up after Hurricane Andrew, hunkered down in a building called K2, and lived about seven years, Tam said.

"Nobody has given us a drop-dead date" for the dogs' departure, though it's understood that it must be soon, Tam said.

"It's certainly not going to be, `Get rid of them by next week or we'll have them put to sleep,"' Reynolds said. "But it's not appropriate to have a bunch of dogs there."(Miami Herald)
If you read the comments associated with the story you'll see an awful lot of unhappy people, people who believe that Dottie and Breezeway should stay… and Reynolds should go!
Why can't these two dogs just live in peace. They have been there for years and nobody cared. They are probably better cared for then some dogs who live in homes. Reynolds should be fired.
*Posted by: Dennis
2nd the motion to have Reynolds fired. Let the dogs be, it is tradation. Why can't we just keep somethings like that have always been. Sometimes change is NOT GOOD. They dogs already went through enough, leave them be. Fire Reynolds!!!!!
*Posted by: Animal Lover
I just called Fla.City Hall office 305 247-8221 and talked with a very nice woman who said she'd forward my complaint to the Mayor.
We need to campaign for the dogs and the removal of Reynolds.
*Posted by: Nancy
The reason given is "management changes"… Obviously not an animal lover…..and an excuse is that the well field is there…and the perception when the dogs 'do their business'…Please Reynolds – people aren't that stupid. I hope Dottie and Breezeway don't end up being a casualty of 'new management' that just wants to change things for 'changes sake'.
*Posted by: Charlotte
Mr. Reynolds and his supervisors should be compassionate and think "outside the box" about this matter. The dogs are not bothering anyone and they are probably contributing to good employee morale. Letting them go will contribute to bad employee morale. As for his concern for people from the public who visit the plant, they would probably walk away with a better feeling about the plant knowing the story of the dogs and why they are there. Use this as a positive but more importantly be compassionate to our 4 legged friends. There is a reason why dogs are known as "a man's best friend" and I do not know about you, but I value the genuine friendship of my dog more than I do that of many people that I know !
*Posted by: Stand up for our Animals
There are pages of comments and pretty much all are like this. What do you think?
Email This Post
Like this post? Subscribe to my RSS feed and get loads more!