Newborn Puppies 'Trashed'
Wednesday, January 30th, 2008 at 10:17 am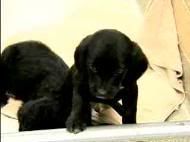 Abandoned pets are a damn shame and there's no excuse except for people without a heart or conscience who don't think they need an excuse for anything.
Even sadder are those abandoned animals who have not even been given a chance at life before they were so cruelly thrown away, no better than garbage. This is yet another story of puppies thrown away in a trash bag. Luckily all six of these newborn puppies were rescued in time and so far have survived. One of the tiny puppies is in poor shape but the other five are doing well. Best of all, all of the puppies will have new, loving homes.
Route 81 rest stop near Watertown, NY, two women came across a trash bag laying on the ground, not normally a big deal except this one was moving. When they opened the bag that's when they found the six tiny puppies that were closed up inside. With the time of year, the weather as cold as it is, it's doubtful those puppies would have survived very long had they not been rescued.
"There's no reason. Those animals would have been accepted here in a heartbeat. Why people do that I can't imagine especially with puppies. No excuse," said SPCA Director Linda Miles.
Often, yes is is harder to adopt out adult and senior dogs but puppies tend to be adopted pretty quickly. Why someone would be so heartless as to just tie them up in a bag and leave them to the fates….
Good new is, aside from the fact that the puppies were saved and will be going to new homes pretty quickly, the SPCA has a lead about a possible suspect! Someone tipped them off to a recently deployed soldier who had puppies matching the description of these.
This makes me even angrier because I've read so many stories of deployed soldier going to great lengths to place their pets in loving homes before they have to leave.  Stories of dogs that soldiers have found while they are deployed that move mountains to bring their loved canine companions back to the States with them and many more.
Whether you agree with the war or not, I feel that you have to respect and support our soldiers and I do, but when I hear stories like this one and some others that I've heard, sometimes it makes me want to question my own loyalties.
Source – News 10
Email This Post
Like this post? Subscribe to my RSS feed and get loads more!