NFL Suspends Michael Vick Indefinitely
Friday, August 24th, 2007 at 5:48 pm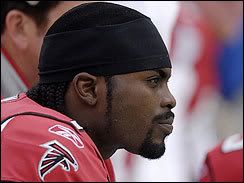 Just hours after he filed his Summary of Facts with the court, the NFL indefinitely suspended Michael Vick without pay.
Although Vick insists in his statement that he placed no bets nor received any of the winnings, Roger Goodell said Vick's admitted conduct was "not only illegal but also cruel and reprehensible" and regardless whether he personally placed bets, "your actions in funding the betting and your association with illegal gambling both violate the terms of your NFL player contract and expose you to corrupting influences in derogation of one of the most fundamental responsibilities of an NFL player."
NFL commissioner Roger Goodell wrote to Vick on Friday to inform him of his suspension, which may yet become a lifetime ban. Goodell's letter was damning in its tone.
"Your admitted conduct was not only illegal, but also cruel and reprehensible," Goodell wrote. "Your team, the NFL, and NFL fans have all been hurt by your actions."
However gruesome admissions regarding the deaths of several dogs are, it is Vick's admission that he funded gambling on dogfights – even though he says he did not profit from the bets – that is the more serious offense in the NFL's eyes, as it violates the league's strict anti-gambling code.
"Your plea agreement and the plea agreements of your co-defendants also demonstrate your significant involvement in illegal gambling," Goodell continued.
"Even if you personally did not place bets, as you contend, your actions in funding the betting and your association with illegal gambling both violate the terms of your NFL player contract and expose you to corrupting influences in derogation of one of the most fundamental responsibilities of an NFL player."
Goodell also told Vick that he had violated the league's personal conduct policy.
The commissioner will now wait for the legal process to run its course before deciding how long Vick's suspension should run.
A lifetime ban is possible under the NFL's rules.
"I have advised the Falcons that, with my decision today, they are no longer prohibited from acting and are now free to assert any claims or remedies available to them under the Collective Bargaining Agreement or your NFL player contract," Goodell wrote Friday.
Goodell's decision was backed by Falcons owner Arthur Blank in a statement issued Friday.
"We respect and support the Commissioner's decision today to place Michael Vick on an indefinite suspension," the statement said.
"As with other actions he has taken this year, the Commissioner is making a strong statement that conduct which tarnishes the good reputation of the NFL will not be tolerated.
"We hope that Michael will use this time, not only to further address his legal matters, but to take positive steps to improve his personal life."
Vick lawyers in drafting the statement attempt to portray him as being less involved and culpable then Peace, Phillips and Taylor. They attempted to play down his involvement as much as they could.
"While Mr. Vick is not personally charged with or responsible for committing all of the acts alleged in the indictment, as with any conspiracy charge, he is taking full responsibility for his actions and the actions of the others involved," the defense team said in a written statement after the plea agreement was filed.

"Mr. Vick apologizes for his poor judgment in associating himself with those involved in dog fighting and realizes he should never have been involved in this conduct," the statement said.
What total BS! 'Taking full responsibility for his actions?' Not hardly! As I said earlier today, he's still playing games, word games and he's still refusing to take 'full responsibility' for his actions!
Falcons owner, Arthur Blank applauded Goodell's decision to suspend Vick indefinitely. He wanted to suspend him last month after the indictment was made public.
"His admissions describe actions that are incomprehensible and unacceptable for a member of the National Football League and the Atlanta Falcons," Blank said in a statement released by the team.
And like the NFL, Nike released a statement just hours after the court filings. They completely canceled Vick's contract. Prior to this they had just suspended his contract without pay and stopped marketing of Vick sponsored merchandise.
The Beaverton area based company, released a two-sentence statement Friday evening saying it was ending the contract "following today's release of details of his plea."
"As we have said in previous statements, we consider any cruelty to animals inhumane, abhorrent and unacceptable," the company said.
And their problems are far from over, they're stuck with all the Vick merchandise.
And for those who think that financially, Vick's only going to be looking at a possible $250K fine, experts are saying that Vick's dogfighting involvement and guilty plea could possibly cost him in excess of 100 million dollars! Pay, Vick, pay!!!
First off there's the $71 million he'll be out at the cancellation of his Falcon's contract which we will no doubt see very soon and which the Falcons are well within their right to do. And sources say that the Falcons will also begin proceedings to sue Vick for as much of the $37 million signing bonus as they can get back. Then there's an estimated $50 million in endorsements over the next ten years that he's out. Add to that his legal fees which will be in the hundreds of thousands and whatever fines will be imposed and "He has created a new [height] of lost opportunity."
On Monday morning Vick will stand in court before U.S. District Judge Henry E. Hudson, who is know for his strict sentencing, where he will formally plead guilty. I honestly can't see any intelligent person buying into Vick's load of BS, no matter how 'prettily' worded by his expensive lawyers! When it comes to sentencing time, I hope we're see just how tough Judge Hudson is!!
To read Michael Vick's Plea Agreement, download it HERE
To read Michael Vick's Statement of Facts, download it HERE
For all the background and information as well as the full indictment and Pernell, Peace and Taylor's 'Statements of Facts', please see – Michael Vick and Dogfighting
Email This Post
Like this post? Subscribe to my RSS feed and get loads more!