N.J. Councilman Accused Of Animal Cruelty
Thursday, July 26th, 2007 at 7:54 am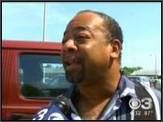 As an elected official who hold the title of Councilman, Robert McCann is is a despicable excuse for a human being! Letting 10 newborn puppies die due to neglect then selling the remaining ones to someone from a rescue rather then surrendering them and then to top all that off, he 'rented' the mother of the pups to nurse the surviving puppies!!! What is wrong with this man?!?
A New Jersey councilman accused of animal neglect shared his frustration outside a Berlin court house on Wednesday.

Chesilhurst Councilman Robert McCann is charged with four counts of animal cruelty for not providing proper shelter for his then pregnant pet lab named Coco. Officials said all but five of Coco's puppies died.

"If you're talking about doing your job, ride through Chesilhurst, there's hundreds of dogs out there, the only house you came to was mine, you ain't been anywhere else," McCann yelled outside out of court.

McCann could not help barking at CBS 3's camera and SPCA Sgt. Jane Donoghue, even though his attorney advised he not comment on what would have been the start of his animal cruelty trial Wednesday.

McCann, whose trial will now begin next month, is charged with leaving his lab mix female dog chained to a tree outside in frigid February weather as she gave birth to 15 puppies.

"Directly causing the death of nine puppies, leaving them outside in freezing cold weather to be born, and they died of complications due to hypothermia," Donoghue said.

Kathy McGuire, with NJ Aid For Animals, received an anonymous tip phone call and she went to McCann's home to rescue Coco and her pups. McCann initially refused to surrender the dogs until he was offered money.

"We also had to give them $250 dollars to purchase the puppies, they weren't just going to give them to us," McGuire explained.

McCann also allowed McGuire to rent Coco, so she could nurse the puppies for a fee.

When confronted by CBS 3 Reporter Cydney Long and told he was a leader in the community and that people were outraged, McCann replied: "I'm not a leader in the community; my time is up December 31st."

McCann faces fines up to $1,000 and up to six months in jail if he is convicted.

The case has been continued until August 15. (Topix)
Email This Post
Like this post? Subscribe to my RSS feed and get loads more!