No Charges for Deputy Who Owned Abused Dog, Hannah – PETITION
Friday, May 9th, 2008 at 7:17 am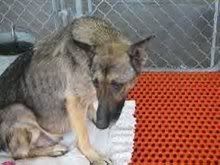 Hannah, a 4 yr old GSD, previously owned by a Tattnall County, GA deputy/K-9 handler, turned into Animal Control facility pregnant, severely emaciated, weighing only 41 lbs, heartworm positive and showing signs of longterm kenneling, among numerous other medical problems, will receive no justice from Tattnall County. DA Tom Durden has decided NOT to press charges.
For the full background, please read the original story HERE.
The Tattnall County Deputy/K-9 handler who owned Hannah (originally named Huanna), Ramsey Arnold, claims he owned Hannah for only three months.
"I got her from another law enforcement officer, K-9 handler, breeder, trainer. It wasn't connected with the sheriff's office. I asked the man I got Huanna from if anything was wrong with her. He said 'no, she was just naturally small' and that he used her as a breeding dog," Arnold said.
Arnold said he took good care of her and never had time to do any of the things he was accused of including breed her.
If that's the case;
Call after call was made to DA Tom Durden prior to 'going public' with this story with requests for information but for some reason no information was forthcoming until now, when a major media outlet gets involved.
If Deputy Ramsey Arnold had Hannah for three months why was she still severely emaciated? She weighed only 41 pounds when she was turned over to animal control. Protruding ribs is a pretty sure sign of malnourishment. "Long term starvation" was what the vet said who examined her. In the short time that she was fostered and adopted, she was able to easily put on weight and become much more healthy.
If Deputy Ramsey Arnold had her for even only three months, why had she not been vetted? Any decent responsible vet would have been blind not to see the severe problems Hannah had.
How could a K-9 handler, someone who should know something about dogs, not know that she was pregnant? A dog's gestation is approximately 63 days, Deputy Arnold claims he had her for 3 months, if he didn't breed her, how did she get pregnant to give birth to three stillborn puppies shortly after she arrived at animal control?
If in fact Hannah was in such deplorable condition when she was given to Deputy Ramsey, there is still someone out there responsible for her condition, for the abuse she suffered. Who is this person, this "law enforcement officer, K-9 handler, breeder, trainer."
Perhaps Deputy Arnold is not guilty of the long term problems that Hannah suffered from but she was still starved, not medically cared for and had been bred while in his custody. These facts do not speak of innocence to me!
And now, despite almost 1500 signatures on a PETITION at this time, asking for Justice for Hannah, Tattnall County DA had decided not to press charges against the deputy.
"Based on interviews with witnesses, this dog was not in the possession of the deputy long enough for these symptoms to exhibit themselves," Durden explained.

"My understanding is the dog is better now and we're all glad of that. But the investigation didn't lead to anything, in my opinion, of criminal liability on the part of this deputy. It's easy to play Monday morning quarterback. Maybe he should have taken the dog to a vet or a caregiver, but that's not necessarily criminal," Durden elaborated.

"That dog is fine. What's the difference in the two dogs, I don't know," Durden stated. "But he cared for that one and the new owner says that dog is doing fine." (WTOC)
Hm, so the dog's fine now, let's just ignore the abuse; the starvation, the lack of care, the neglect. Now that others have invested time, care, love and money into Hannah's recovery, let forget any abuse ever took place.
He also added that "a new investigation could now turn to the person who gave Huanna to Deputy Arnold in the first place. Durden added that owner lives in another judicial district. It will be up to that prosecutor to pursue the case."
Now if took months and media involvement to actually get this Deputy's name to come to light, how are we going to get the name of the person who gave Hannah to Ramsey Arnold to try to investigate. There's been no cooperation from the sheriff's office or from the DA up to this point so are we to actually expect some now?
I am still trying to understand how any reasonable person can say "this dog was not in the possession of the deputy long enough for these symptoms to exhibit themselves." Deputy Ramsey Arnold admits he had Hannah for three months and after surrendering her, she gave birth to a litter of stillborn puppies and a vet's examination showed "Haunna is severely underweight. On a typical scoring scale, with 3/5 being a normal, healthy weight, Haunna is a low 1/5. This type of body condition is typically only noted in dogs suffering from long-term cancers or long term starvation. No signs of neoplasia (cancer) were noted in Haunna." I guess in three months you can't take the time to vet or feed a dog properly, let alone notice if she's pregnant.
Do you think Ramsey Arnold will be forthcoming with the name of Hannah's previous owner since he managed to get off the hook for this? Doubtful.
Please, help us get justice for Hannah!! Law officers are not above the law!
Contact
District Attorney Tom Durden
Email – daajc@yahoo.com
945 E.G. Miles Pkwy
Hinesville GA 31313
(912) 876-4151
(912) 876-7991
Ask how they could ignore the obvious abuse based on the facts above. Ask for the name of the previous owner so that an investigation can be done. Ask what constitutes animal cruelty in Tattnall County, GA. because it looks like severe neglect and starvation don't count, at least for law officers.
And yes, Hannah is recovering and doing pretty well now. It's taken two months, surgeries, removal of tumors, constant care and proper feeding and of course a lot of love. She undergoing dangerous heartworm treatment now. She's learning how to interact with other dogs and with people without cringing but loud voices still scare the hell out of her as well as raised hands. She's gained weight and even wags her tail now. And amazingly, all this is less than three months, the amount of time Arnold says he had her.
Pretty amazing, isn't it. Really makes you wonder!
So please, contact the DA and ask some questions. We're continuing to ask for signatures on the petition because JUSTICE HAS NOT BEEN SERVED!
Email This Post
Like this post? Subscribe to my RSS feed and get loads more!