No Justice for Shepp, Cruelly Starved Dog! VIDEO
Monday, June 29th, 2009 at 7:58 am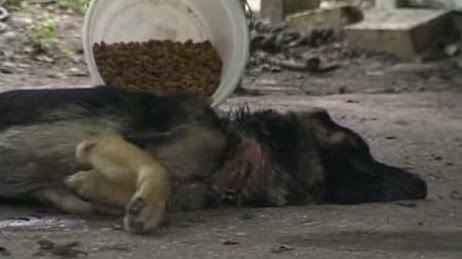 Looks like Corpus Christi, TX and the sentencing Judge, Judge Martinez, don't give a damn about dogs or animals and don't take animal abuse very seriously.  Wastes of human life, 44-year-old Daniel Luna and 45-year-old Norma Luna, who abandoned this once beautiful German Shepherd, Shepp, to suffer a cruel and painful fate, were charged with 4 counts of animal cruelty; not feeding Shepp properly, not providing sufficient water, providing no medical attention for the dog's injuries, and allowing Shepp to be tied up at an unoccupied property, misdemeanor charges.
They could have faced jail time but good ole Judge Martinez, in a plea deal, sentenced them to one year probation and $900 in fines!!!
A year probation and a fine!! You've got to be kidding me!!  This poor dog suffered in the sweltering heat for a month, little to no food and water, bone protruding, open sores, maggots and they got a year's probation!! OMG!! Where the hell is the justice in that??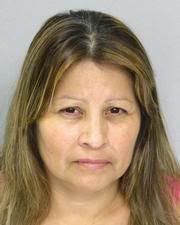 Look at these faces! These are the faces of heartless monsters who are getting away with killing, with torture. I am so angry and incensed that I can barely write! I am beginning to think they need to take the word "justice" out of the phrase justice system!
Take a moment to read Shepp's story, to watch the video and if you still have dry eyes, I will be amazed! HERE
What Can You Do?
You can help in two ways, spread the word of this unbelievable injustice and contact the "powers that be" in Corpus Christi, TX and let them know what you think of their "justice."
CONTACT INFO
Mayor Joe Adame: Email Address: joea@cctexas.com
Kelly Denson, Assistant to the Mayor Email: kellyd@cctexas.com
City Council Offices
1201 Leopard St.
Corpus Christi, Texas 78401
Main Line…..361-826-3105
Judge Martinez – the wonderful Judge who sentenced the Lunas:
phone – 361-888-0466
fax: 361-888-0250;
county.court3@co.nueces.tx.us
Corpus Christi Government Website: http://www.cctexas.com/government/
Please, get the word out and share this with everyone! This is not justice, I don't think even qualifies as a slap on the wrist. This is beyond a joke! There needs to be an accounting and there needs to be changes in Corpus Christi because if this is the way they do things…. scary!
~~~~
This is an interview with DDB's Thayne and Mark Crider, about the Corpus Christi Chain Off and abuse of Shepp, a German Shepherd left to die at the end of a chain. Shepp deserved Better, and activists are standing against this kind of abuse nationwide.
Email This Post
Like this post? Subscribe to my RSS feed and get loads more!