No Justice! Six Days Jail for Dog Killer
Thursday, February 12th, 2009 at 10:15 am
Tafik Habib admitted to brutally kicking and beating his landlord. Elefterios Bonaros' little 3-year-old Boston Terrier, named Sasha, to death. In November he pleaded guilty to "overdriving, torturing and injuring" an animal, a violation of the New York state's agricultural law, only a misdemeanor. He could have been sentenced to up to a year if convicted at a trial. Instead he negotiated a plea deal; 175 hours of community service at an AIDS hospice, pay $160 court costs, and spend six days in jail.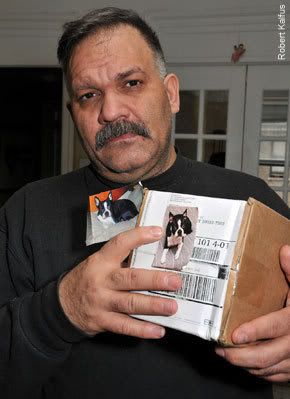 Yesterday he began his 6 day jail sentence and in just a few short days he'll be back on the streets again. Ludicrous!
This sad story started last January when Bonaros rented a room to Habib in his Upper West Side Manhattan apartment when Habib moved temporarily to New York from Florida.
Bonaros said that Habib made it quite clear from the start that he didn't like dogs. "From the beginning, it was clear he didn't like dogs. He used to say they are like dirt, they have no value in life," Bonaros said.
On January 10, Bonaros went out for about 20 minute while Habib was also out of the apartment. When he returned he knew immediately that something was wrong. He found Sasha covered with a towel, he head smashed in from the brutal beating. Sasha's littler of 7 puppies were not harmed.
"I saw Sasha on the floor and had a severe pain in my ribs. I was devastated. I tried giving her mouth-to-mouth, but she must have died immediately."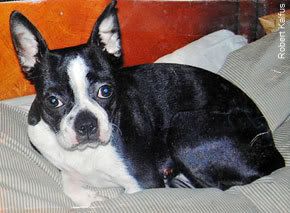 Habib admitted to kicking, stomping and beating the little 15-lb. dog with an umbrella.
When Habib was indicted in May of 2007, the details were so gruesome and horrendous that they actually had members of the grand jury in tears.
In court on Wednesday Elefterios Bonaros wept and cursed Habib. Habib said nothing but his lawyer, Earl Ward said Habib was sorry it happened.
State Supreme Court Justice Carol Berkman told Habib, "I happen to be an animal lover myself," and warned that she would give him more jail time if he does not successfully complete the community service.
This is NOT justice but yet another 'slap on the wrist' and a slap in the face for Bonaros.  He keeps Sasha's ashes in his bedroom next to a candle and kept two of her puppies,, one named Sashita after her brutally killed mother.
You want to know why animal abuse like this continues?  With sentences like this, who cares if they are caught and convicted!  Why don't you find out who the DA was and ask them how they could ever offer a plea deal like this.  Was this man some one special… did he have connections… was there actually a question of his guilt… or is it just another case of "it's just a dog?"
What it is is a damn shame that someone could get away with such a cruel barbaric act!
Email This Post
Like this post? Subscribe to my RSS feed and get loads more!