North Carolina Gas Chamber Workshop with Live Victims – VIDEO
Tuesday, August 5th, 2008 at 11:08 am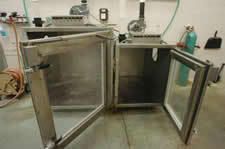 A couple of weeks ago I did a story on a gas chamber explosion in a NC animal shelter. In the story I talked about Dr. Ralph Houser, DVM, manufacturer of gas chambers and proponent or this cruel and inhumane method and we can now add to that, trainer dog and animal killer!
One of the biggest proponents for gas chamber use in NC is a veterinarian himself, Dr. Ralph Houser, DVM. Houser is also a manufacturer of the chambers from hell and a member of the state's Board of the North Carolina Animal Rabies Control Association. Although the AMVA advocates lethal injection as the most humane method of euthanasia, it's no surprise that Houser is against it. He doesn't want anyone taking money out of pocket! It is believed by many that he is single handedly responsible for the reluctance of the state's Board of Agriculture to ban use of this cruel, medieval device.
Well it looks like he also does workshops on the use of the gas chamber and rakes in the bucks that way too! What a sick POS!!
I got this info via email today and I am posting it is its entirety. Please take the time to read then help to get the word out and take action!!
Announcing a euthanasia workshop in Gaston County conducted by R. Houser

This is a profit generating venture for Ralph Houser. He conducts them regularly in Craven County and Gaston County. The checks are to be payable to Houser. Attendees come from many different areas. Houser is allowed to use the Gaston County Animal Control facility and Gaston College – He pays nothing for their use. Houser and his attendees kill Gaston County animals.

There is a very likely possibility that the mandatory holding period is violated for some of the "victims." For example have all the "victims" been held for 72 hours? Have some been held back from adoption so they have a sufficient number of "victims" for the attendees to kill over 3 days. How many animals are killed during his "euthanasia seminar?" That needs to be determined. Also, Does Houser pay the county for the animals he kills ????

If they were not killed en masse, some of them could be adopted. Who makes the decision which ones are killed and how many he is allowed to kill?? The taxpayers of Gaston County are paying for the expenses of Ralph Houser's business and furnishing him with animals to kill — some of which are or were peoples pets.

Ralph Houser got into the "killing" business as a result of an accident that ended his practice of veterinary medicine. That accident set in motion animal cruelty and abuse on a statewide basis. It has led to the suffering and death of hundreds of thousands of animals at the hands of Houser trained workers in Houser designed gas chambers. He is the architect of the "final solution" for animals in NC.

To further compound the problem Ralph House not only has sold and profited from the placement of the gas chambers but in addition he profits from training the workers. Former attendees have stated that Houser's makes a sales pitch for his chambers during classes that various counties have paid for. He is not unbiased. In fact he has a major money driven conflict of interest. Gas Chambers are promoted by Houser as the "safest" euthanasia method for "aggressive' dogs and cats. No one is present to present the case for the truly safer procedure which is provided by Sodium Pentobarbital.

His methods and beliefs are totally inhumane. He has been known to let "students" do IV injections on all 4 legs of dogs until the veins "blowout." He kills those animals with a "heart injection" not an IV injection. During a "euthanasia seminar" He watched dogs that were forced to remain in a gas chamber for over an hour, in the summer heat. The carbon monoxide ran out and employees had to go buy another carbon monoxide cylinder.

During the conversation I had with R/H he stated that he did not provide an operating manual, that he did not provide operational instructions to the personnel when it is installed, and that he did not furnish any maintenance, repair, inspection, or operational services for his gas chambers after the sale. He said "it is not my responsibility to come see if that gas chamber is leaking," once they own it they have to inspect and maintain it." Of course no county has the trained personnel or the instruments needed to carry out those ongoing tasks. The counties/cities are unwittingly placing their workers in danger of heart disease, cancer, sterilization, and all of the other health risks that come from long term low level exposure to carbon monoxide gas — no to mention the possibility of getting a worker killed along with the animals.

He said he does not have a manual or any other instructional guide covering how to operate and humanely destroy animals. His operational instructions are limited to "turn it on, leave it on a few minutes, and take the animals out". There is no discussion or instruction on the gas-oxygen ratios, no discussion of how rapid the flow of carbon monoxide should be, there is no gauge to measure the gas to oxygen ration. There are no guidelines for the length of exposure to the gas based on the number of animals being gassed. There are no guidelines for "exhaust" time for the gases prior to the removal of the animals.

He made the statement to me that "it is fine to put multiple numbers of unseparated animals in the chamber together" he further stated "dogs are pack animals and they are OK with being put in the chamber in a pack like setting" He further stated that even if there was a potential for some problems to occur, that would not happen because "all" of the animals are unconscious within 20-30 seconds. He said the "workers did not have time to put animals in separate cages or a partioned cage, it takes too long and the Counties can't afford to pay the workers to take the time to put each animal in a separate space."

Most of the focus on the gas chamber problems has been on dogs. Cats should not be forgotten. How are cats being gassed? Are they kept in separate cages or containers or are they taken by a "catch pole" and loaded into the chamber?

He also stated "I disagree with the AVMA's guideline that puppies, kittens, sick, injured, pregnant and older animals should not be euthanized in a gas chamber." He said the carbon monoxide will kill all of the animals put in the chamber. "It just takes longer for it work on some animals."

According to past students, he does not teach checking for vital signs after the animals are removed nor does he insist on it. This causes animals to "Rise from the Dead." In the Clinton case in 2004, 6 puppies were gassed in the Houser Gas Chamber – taken out- and promptly "arose from the dead." These puppies were subsequently adopted out the same day! Sadly, these puppies died one by one over the next several days. The worker who adopted out these puppies told me that the only reason they were adopted was that the workers were not there who usually "finished killing the animals that did not die in the gas chamber"! She told me "they will either drown them or hit them in the head with a bat." Where is Doctor Ralph Houser while all of this is going on with his Gas Chamber?? This is pure evil and it cannot be called humane euthanasia under any definition that Ralph Houser can concoct.

Where is he when this illegal animal abuse is taking place daily all across NC in gas chambers that he designed and sold? He made the statement that shooting is OK at a Yadkin County Commissioners meeting. He told me on the phone that "gunshot is an acceptable means of euthanasia"- what he failed to add was that "gunshot" is not approved by the AVMA or anyone else for the routine euthanasia of animals and that, in fact, "gunshot" is only to be used in unusual situations like in the field where no other means of euthanasia is available.

Is it any wonder that there is an absence of "compassion" and "humane treatment" of animals in public "shelters"?

The physical characteristics of his chambers are substandard. Many do not have an exhaust fan — subjecting the workers to the gas when they open the door. The door seals and latches are not industrial quality and the seals are made of a material that is thin and subject to deterioration. In addition it is so flimsy that it can be torn by workers or animals while operating the chamber. Since the animals are not confined or separated they could certainly damage the seals and expose the workers to the gas. It does not take a large tear in the seal to cancel the mandatory"air tight" requirement for a gas chamber.

Most if not all of his chambers do not have an interior- explosion proof light to be able to see the animals while they are being gassed. There are no safety signs or warnings on the actual chamber. Until the Sampson County leaks there were no "explosion or no smoking" warnings. The window on the front of his chamber is tiny in comparison to the AIA gas chambers. The AIA
window is probably 2 feet square. It is impossible for a worker to monitor what is happening to the animals in one of his chambers. The worker would have to kneel down and look through about a 8″ X 8″ window, into a completely dark box, filled with animals and attempt to evaluate the quality or problems taking place inside.

The fact of the matter is that with his chambers and his training – or lack of same- it is a "SET IT AND FORGET IT" operation from start to finish.

Another major problem is the"Waiting Time" each group of the "designated dead" must endure. Pity the ones who go in first. In Clinton and other areas we know about 12-20 dogs and puppies are "forced" into the chamber on top of each other. This dark box is filled with the odors and animal matter death produces. Think about the inhumane results of this exercise. Yet "Dr. Houser" continues to claim it is "humane" because he profits from the procedure. In many cases, where multiple gassings take place in a day, the gas chamber is not cleaned between the loads of animals going into it. The chamber will then reek of the odors of death. Pheromones, urine, stools, blood, hair, saliva, and who knows what else remains to greet the next group of trusting victims.

Sodium pentobarbital is another problem. Ralph Houser"rents" his license to Counties so that they can get the drug. Moore County is an example. Does he go to these counties to inspect the drug records or to see how the drug is used or to monitor the euthanasia process? Who then is responsible for the quality of the euthanasia?? The DEA should be brought in to help check the
record keeping for the drugs at all of the Ralph Houser authorized animal control facilities.

In summary, Ralph Houser has been put in a position of fiduciary trust by the municipalities who have selected him to be "responsible" for the euthanasia equipment and training in their animal control facilities. Ralph Houser has breached and violated that fiduciary trust by his actions which include selling substandard gas chambers with no instructions, no operating manuals, no safety manual, no euthanasia guides, no service manual, and no maintenance manual.

In addition, these same municipalities have relied upon and entrusted Ralph Houser to "teach and instruct" their workers in the techniques required to perform "humane euthanasia." Ralph Houser, as evidenced by workers who have taken his training, does not teach "humane euthanasia." In fact his teachings result in cruel and inhumane euthanasia which is illegal and an insult to the social conscious of the communities where he has been allowed to practice his "final solution." People that he has trained need to be deposed to discover his training methods. Ralph Houser should be deposed to find out what "humane guidelines" if any that he uses and are in legal compliance. Other unanswered questions concern who makes his gas chambers , and why they do not comply with the Gas Chamber standards of the AVMA? He should be made to answer the question "Why don't your gas chambers have all of the features that are considered necessary to produce humane euthanasia?"

Ralph Houser, by furnishing substandard gas machines and by teaching inhumane euthanasia practices to NC workers who operate the machines, has in many places made humane euthanasia impossible. He has escaped accountability to date because the victims can't bear witness or ask for help and the workers carrying out the unspeakable tasks have had no where to turn. County Commissioners and County Managers don't want to hear about it – much less take the time to investigate and correct the problems.

Now is the time to bring Ralph Houser out into the light of day. It is time to bring him out of the "off limits" dark and smelly animal control back rooms and out from his private "county sponsored" classrooms where there is no accountability and into a room where his actions can be made public and stopped. That room is the Courtroom, where a jury of his peers can pass judgment on his "Final Solution" for the animals of NC. Where they can stop him from causing and contributing to future municipally sponsored animal cruelty.

————————-

Excerpts from NARCA Euthanasia Workshop Brochure:

(with comments from others)

ANIMAL EUTHANASIA WORKSHOP

Anyone who believes in (?) the unfortunate necessity of animal euthanasia, should not tolerate anything less than its legal, humane and proper use. Euthanasia or 'easy death¨ is neither easy nor merciful if improperly administered by ill-trained or uncaring personnel, regardless of the method of choice. (Ralph Houser's methods are neither easy nor merciful nor humane) This workshop will provide participants with extensive classroom instruction, as well as direct, participatory applications of various euthanasia agents and methods.

Animal Euthanasia

The primary function of this Animal Euthanasia Workshop is to help participants develop an understanding of selecting the agent, method and requirements necessary for humane euthanasia. With an inherent belief that suffering and distress can be minimized through an expertise in euthanasia techniques, this workshop will also identify the importance of consideration for both the animal being euthanized, as well as those persons performing
euthanasia.

Ralph Houser Gas Chamber ?

– 8:00 am until 5:00 pm (Mon, Tue, Wed)
– Breaks as appropriate

Ralph W. Houser:

Born in Lancaster, Pennsylvania, Ralph W. Houser, DVM, received degrees in psychology and veterinary medicine from Michigan State University. After managing farms in Michigan and North Carolina, Dr. Houser founded and operated two veterinary practices in North Carolina. In 1987, he opened Carolina Veterinary Consulting to provide consultative and educational support to private individuals, animal control, law enforcement, health departments and other government agencies.

Dr. Houser serves as the veterinary consultant to eight animal control agencies, four law enforcement agencies and five health departments. He has provided training for the Department of Defense, the Department of Justice, the U.S.D.A. and the R.S.P.C.A. in Great Britain. Dr. Houser is a certified instructor in the use of Cap-Chur chemical immobilization equipment, is certified as a Wildlife Damage Control Agent (kill the animals) by the state of North Carolina and is the veterinary consultant for Infectious Disease Control, where he is responsible for research and development of Wipex Safti-Wipes, for the animal industry.

—————————

Classroom and lab activities will be conducted at Gaston College's Vet Tech Building, next to the Gaston County Animal Shelter. The Shelter is located at 222 Leisure Lane, Dallas, NC 28034. Leisure Lane is off NC Hwy. #279 West, off of US #321 North. When traveling West on NC #279, Leisure Lane is approximately 1/2 mile from the US #321 intersection, on the left. Turn left onto Leisure Lane, next to the Citizen¡¦s Resource Center. The Animal Shelter is further down Leisure Lane on the right. Follow the directional signs.

To Register:
Fill out the form below and mail with check payable to:
Carolina Veterinary Consulting
c/o Gaston County Animal Control
PO Box 479
Dallas, NC 28034
Attn: Lisa Benton
Name
Agency
Address
For more information call
Lisa Benton (704) 922-8677 or

Administrator Reggie Horton (704) 922-9716
Animal Euthanasia
Registration Fee
NCARCA Members ………….. $200.00
Non-members …………………… $225.00
(includes equipment / supply charges)
Room accommodations may be arranged directly at the following convenient establishment:
Holiday Inn Express ……… (704) 884-3300
1911 Broadcast Drive, Gastonia, NC 28052
Phone
COURSE SCHEDULE
ABOUT THE INSTRUCTOR

Gaston County Animal Shelter

220 Leisure Lane
Dallas, NC 28034

Tel:………. …… (704) 922-8677
Fax: ……………. (704) 922-1205
Email: …….. lbenton@gcps.org (gcps.org)
August 4-5-6, 2008
Should this be allowed to continue?? Do gas chambers have a place in civilized society?? Of course not!! They are considered inhumane to use on human criminals condemned to death and just what have these innocent and defenseless animals done??
Is there anything that you can do? Of course there is!!
WHAT YOU CAN DO
Write letters to the Office of Administrative Hearings, Rules Review Commission, 1307 Glenwood Avenue, Raleigh, NC 27605 and urge them to adopt a ban on animal gas chambers.
Call Agriculture Commissioner Steve Troxler at 919-733-7125, and
Chamber of Commerce Pres Lew Ebert at 919-836-1407 and urge them to end the use of animal gas chambers in North Carolina.
Email North Carolina Governor Mike Easley and urge him to request the introduction of legislation which would override the Commissioner of Agriculture's removal of the board's recommendation to end the killing of pets by carbon monoxide gas. Gov. Easley has refused to request this legislation, claiming "aggressive dogs are safer to kill by gas." But actually, it is safer to sedate the animals first and then use a lethal injection. Most shelters use injection to euthanize even aggressive dogs, including 67 of North Carolina's 100 counties. Send Gov. Easley this link.
You can also call or fax a letter to the Governor: 1-800-662-7952 if you live in North Carolina and (919) 733-4240 or (919) 733-5811 for out of state calls; Fax (919) 733-2120.
Click here to email North Carolina legislators and urge them to adopt legislation banning use of animal gas chambers.
Click here for names and contact information for all N.C. House members.
Click here for names and contact information for all N.C. Senators.
Contact Iredell County officials and urge them to use lethal injection and not go back to the animal gas chamber.
Joel R. Mashburn, County Manager; jmashburn@co.iredell.nc.us
Phone: (704) 878-3050
Fax: (704) 878-5355
Jean Moore, Clerk to the Board of commissioners; jmoore@co.iredell.nc.us
Tracy Jackson, Assistant County Manager; tjackson@co.iredell.nc.us
And be sure to let everyone know about these 'Workshops'!! Tell them NO to gas chambers… no to Dr. Ralph Houser and NO to this abomination!!!
And in case you don't know or understand the true cruelty about gas chambers, check out the video below!
WARNING!! The following video is not for the faint of heart!!!
It shows actual footage of dogs being taken to the gas chamber and being gassed. Although it was shot in the 90s, things are no different now!
Please, whether you are a NC resident of not, I beg of you to use to contact information above and contact anyone and everyone. Let them know that you will boycott NC and any and all NC goods is changes are not made.
Actual Video of Dogs being Gassed!
Email This Post
Like this post? Subscribe to my RSS feed and get loads more!