Not Everyone Jumps on the BSL Bandwagon
Tuesday, August 12th, 2008 at 8:43 am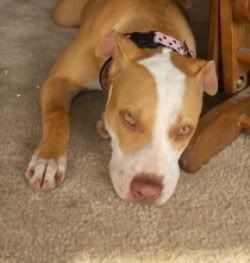 You hear more and more stories of cities and towns jumping on the BSL bandwagon, brainwashed by the media hype but every once in a while someone with some sanity and knowledge comes forward and says NO! Grand Island, Nebraska has shown just that sanity and intelligence by saying no to BSL and some of the comments are the truest and most honest I've heard. Thank you Grand Island for not feeling the need to follow your neighboring cities and towns in the BS of BSL!
While the Nebraska cities of Osceola and Minden have added dog breed bans to their city laws this summer, Grand Island will not pursue such a ban.

The Animal Advisory Board met on Monday and was adamant that a ban on any dog breed not become a part of the Grand Island city code.

City Attorney Dale Shotkoski had asked the board if it wanted to pursue a ban after his office received calls recently about pit bulls.

"Any type of dog can do severe damage," said Laurie Dethloff, Central Nebraska Humane Society executive director. "We prefer to make the owners accountable, not the breed."

Dethloff and Humane Society Shelter Manager Jane Kuehn said that accountability comes through things such as property insurance, leash laws, kennels and muzzles for dogs that have a demonstrated history of biting.

"Dogs don't have a thing to do with their own behavior — people do," advisory board member Doug Jensen said.

Jensen is a Doberman pinscher breeder and expressed concern that a ban on any one particular breed would lead to a ban on more and more.

Bans are simply not appropriate, Jensen said, because they are an infringement on people's civil rights.

Breed bans are also virtually unenforceable, he said.

Jensen, who judges internationally for the American Kennel Club, said the pit bull is actually a crossbreed known as the Staffordshire bull terrier.

Determining the lineage and breed of a dog can be a challenge and would make enforcement of any breed ban difficult, he said.

"There are so many crossbreeds. How do you determine what is and what isn't?" Shotkoski asked.

Grand Island Police Chief Steve Lamken said, based on calls for service from his officers, pit bulls aren't the problem. The owners are.

"If a person wants a mean dog, they can make it mean," he said. "If you won't allow pit bulls, those people will find some other dog and make it mean."

"If they use the dog as a weapon, they will find another weapon," Shotkoski agreed.

Jensen said the breeds most prone to biting are actually cocker spaniels, poodles and Chihuahuas.

Shotkoski said bite cases the city has dealt with also include Lab mixes and German shepherds.

If the city simply enforced its current regulations on leash laws, Jensen said, bite problems wouldn't exist. (The Independent)
Now why can't more people look at the reality as it is and realize that 1) it's not the breed or the dog, it's the owner that's to blame and 2) if you ban certain breeds, people who want mean dogs will just trun to another breed.
Email This Post
Like this post? Subscribe to my RSS feed and get loads more!