Offbeat Dog News
Saturday, October 25th, 2008 at 8:27 am
Got a couple of dog stories that can only fit under offbeat or weird but it's happy endings all the way around….
Check Out This Fisherman's Catch!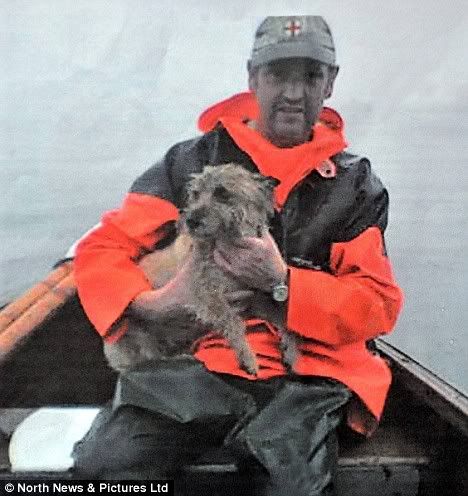 Trawlermen Jimmy and Alan Thompson from Red Row, Northumberland, UK, were out in the water, doing their thing when they spotted what looked like an otter in the water. Upon drawing closer, they saw it was a dog, paddling to save it's life almost three quarters of a mile out to sea.
They launched a lifeboat to rescue the little guy, and contacted the Coastguard to get him back to shore.
Turns out that the little dog, a 14 year old cairn terrier named Freddie, was out walking along the beach with is owner, 73-year-old Jean Brigstock when a blinding fog rolled in. Freddie got disoriented and wound up in the water.
Mrs. Bridstock searched for Freddie for hours. "I looked for him for hours, and others helped. There was no sign of him, but I was convinced he would eventually turn up.
"I was desperate. He's my companion and he's so important to me. We walk twice a day down on the beach.
"I knew he hated water so I thought he'd head for the dunes rather than the sea. It really didn't enter my head that he would swim.
"He rarely goes through a puddle and has an aversion to baths."
Then in one of those odd twists, her daughter, Wendy, came across the wife of one of the fisherman who told her a story about finding a dog and lo and behold, Freddie and Mrs. Brigstock were reunited.
Mrs Brigstock added: "The night he was rescued, he was a little bit under the weather. He was quite quiet and feeling sorry for himself.
"But the next morning he was ready for his breakfast."
Man Forgets Where He Parked Car with Dog in it… For a Month!
80-Year-old Wang Zujun, a Chinese pensioner, was a bit absent minded. One day he took his vehicle to be fixed and then couldn't remember the name or address or the garage. The garage owner parked the finished vehicle in the lot obviously expecting Wang to come back for it since his dog was in tucked inside.
Days passed and no one came to get the car or rescue the dog trapped inside. Local merchants fed the dog through the window which was open a small bit. After a month when the smell from the vehicle got bad they broke the window to free the little dog which only cowered in the corner and refused to come to anyone.
At this point, the rescuers found documents in the car and contacted Wang who had been searching for his car and beloved dog for the last month, in the wrong directions.
"Each morning, I would go out and look for them. The [vehicle] is nothing to me, but my dogs are my only companions," he said.
When Wang arrived and the dog heard his voice, he jumped out of the car into his arms.
Another happy ending!
Email This Post
Like this post? Subscribe to my RSS feed and get loads more!