One Puppy-napper on Trial, Another Still at Large – VIDEO
Monday, January 26th, 2009 at 9:10 am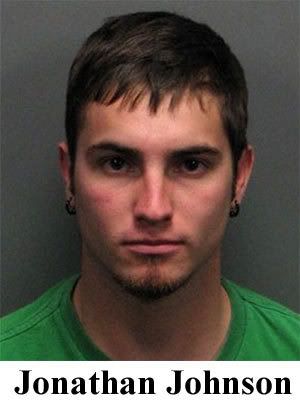 On November 19, two men busted into the Reno, Nevada home of Joseph Harwood and his wife and stole two English bulldog puppies. While they were making their getaway they almost ran over the homeowner who managed to get out of the way but the puppies' mother, an adult bulldog named Wendy, wasn't so lucky. The SUV driven by the puppy-nappers ran over and killed her.
Now, one of the men, 22-year-old Johnathan Johnson, is on trial for the puppy kidnapping.  He is charged with three felonies; robbery, home invasion, and grand larceny, and faces up to 30 years for each count. There are also "enhancements" facing the defendant because the victims here are more than 60-years old.
He is not being charged with animal cruelty because prosecutor Dan Greco says there is no evidence Johnson purposely killed the adult bulldog. The two stolen puppies have never turned up.
Johnson says the last time he say the puppies was when he tucked them in a duffel bag in the SUV that day he and his accomplice stole them. The accomplice, says Johnson, is one Michael Donika, also known as "White Rabbit" who has since fled. Police are looking for him and calling him a "person of interest."
Johnson waived his right to appear at his preliminary hearing last week but Reno Police Detective Robert Evans testified regarding some of what Johnson said.
" Well he said he arrived at that Keystone address and then met with Mr. Donica and while at that address Mr. Donica asked Mr. Johnson if he could borrow his vehicle and Mr. Johnson said, questioned him what for. And Mr. Donica said he wanted to go steal some puppies and asked if he wanted to accompany him to a residence to steal the puppies."
Johnson's girlfriend, 19-year-old Jessica Engelhardt, also testified as well as the victim, Joseph Harwood.
Although I think it's fantastic that Johnson is being prosecuted and had been charged with some pretty serious charges, I am nonetheless disappointed not to see animal cruelty as one of them.  If these wastes of human life had not decided to get their kicks and thrills from stealing these puppies, they would never have been in a position for this "accident" to happen and the puppies' mother to be run over and killed.  Perhaps I am being petty and I know pets are only considered property but there are three live lost here and they are only marginally being taken into consideration, not even as lives and the poor runover and killed dog doesn't even seem to count at all, except to the Harwoods who lost their four-legged family member along with the two puppies who will most likely never be seen again.
I guess we need to be thankful for what we can get and hope that the prosecutor, Dan Greco, meant what he said when he said, "Across the county there seems to be this trend toward more and more violence directed toward, at helpless animals. And we intend to do whatever we can to help stop that trend."
And let's also hope they track down that other piece of trash, Michael Donica, so he can pay for his crimes too. Who knows, maybe something can be found out about what happened to those two innocent little puppies.
Email This Post
Like this post? Subscribe to my RSS feed and get loads more!