Operator of One of the Largest Puppy Mills in Country Charged
Friday, February 1st, 2008 at 7:43 am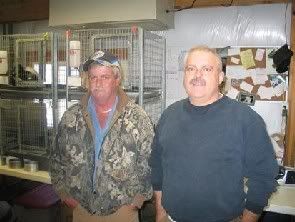 Junior Horton of Horton's Pups has finally been charged, four months after the largest puppy mill bust in history, over 1000 dogs!
Horton was charged Thursday with 40 misdemeanor counts; 14 counts of animal cruelty, 25 counts of neglect, and one count of failing to obtain a license tax for the approximately 125 adult dogs exceeding Horton's kennel license for 500 dogs.
On Thursday morning, Carroll County Animal Control Officer Terry Woods appeared before a magistrate and obtained the 40 charges against Horton. The 14 counts of animal cruelty allege Horton deprived the dogs of necessary food, drink, shelter or emergency veterinary treatment. These alleged violations are Class 1 misdemeanors.

The 25 counts of neglect allege Horton failed to adequately house, feed, water, exercise or care for animals in his possession. These alleged violations are Class 3 misdemeanors.

The failure to obtain a license tax alleged violation is a Class 4 misdemeanor. (The Mount Airy News)
In the largest rescue of this kind, after months of investigation and a cooperative effort between Virginia Partnership for Animal Welfare and Support (VA PAWS) and the HSUS, ultimately, more than 700 dogs were surrendered and placed in shelters and rescues to be adopted out after they were vetted and any medical or other needs taken care of.
Horton turned himself in and was released on a $5000 personal recognizance bond. He's scheduled to be in court on Feb. 5.
Virginia is one of th numerous states that is working toward 'commercial breeder' reforms and legislation this week is moving along.  This is just one of the cases that gave the legislation a boost it needed.  We can only hope that it in soon finalized and that the numerous other states that are working on getting reform taken care of do so.  It's a cruel and brutal business, puppy mills, and all the puppy millers care about is stuffing their wallets with as much green as possible with little to no regard to the innocent dogs that bear the burden or their greed!
Email This Post
Like this post? Subscribe to my RSS feed and get loads more!