Over 75 Dogs Seized for Neglect in Obion TN
Tuesday, July 17th, 2007 at 7:47 am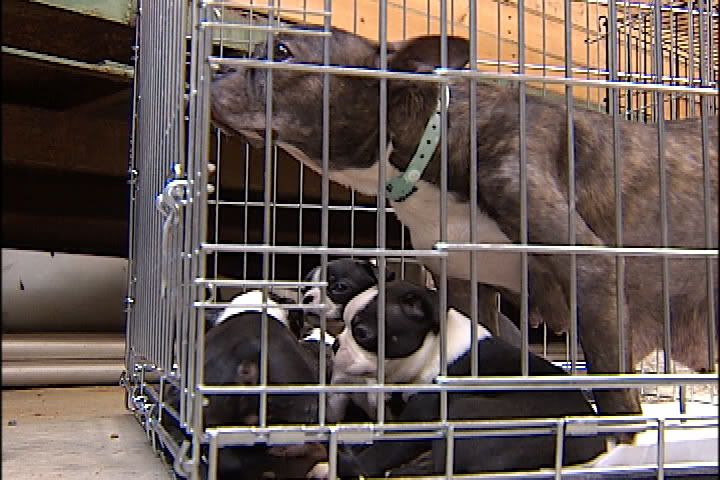 Seems like Tennessee's laws need a bit of an overhaul when a breeder does not need to be licensed or registered and can own any number dogs. Under these conditions it's very difficult to impose any kind of regulations on the welfare of animals.
More than 75 dogs were removed from a Northwest Tennessee home Sunday because of allegations of neglect. The Obion County Sheriff's Department and The Society for the Prevention of Cruelty to Animals took the dogs away after several complaints of animal neglect. It's up to a veterinarian to decide what happens next.

The home owners told the sheriff's department they have a vet that comes to check on the dogs and that there is no problem, but the SPCA says that's not the case. Seventy five to one hundred puppies and dogs, all small breeds were living outside in covered kennels behind the Obion County home. The animals were taken away after calls to authorities said living conditions were terrible. Obion County Sheriff Jerry Vastbinder says the dogs' owners maintain they have done nothing wrong.

"I spoke with their vet who says he's been treating animals out here and he doesn't think there are any problems here," says Vastbinder. But Deborah Lorence with the Gibson-Obion County SPCA says she saw clear signs of animal neglect-dirty dogs, puppies missing hair and living in urine. "We found diarrhea, massive diarrhea, dogs with eye infections or what appeared to be eye infections and infestation of fleas and ticks," says Lorence.

SPCA took the dogs to be checked out by a veterinarian. Now its up to the independent veterinarian's diagnosis to decide if animal cruelty charges are necessary. The SPCA says the dogs owners are not licensed or registered dog breeders, but that's not required under Tennessee State Law. State law also does not regulate the number of dogs a person can have. Because the dogs' owners have not been charged, names have not been released so it's unclear if the dogs owners have ever had prior run-ins with the law or if they have ever faced charges for animal cruelty.

It will be up to a judge to decide whether the dogs will go home or be put up for adoption. In the meantime, the dogs need foster homes. If you'd like to help, call the SPCA at (731) 749-5010. (WPSDTV)
More than a hundred animals made their way to a Mid-South shelter Monday after authorities busted a puppy mill over the weekend.

Animal cruelty investigators say the puppies came from a puppy mill that bred some very expensive dogs.

They say the owners put ads in newspapers that could have been answered by anyone in any Shelby County neighborhood.

Almost 140 puppies and adult dogs sit in enclosures at the Dyersburg Fairgrounds.

All of the puppies were confiscated in nearby Obion County at what cruelty investigators are calling a puppy mill.

An investigation was started after the Gibson County Humane Society got anonymous complaints.

"About the care of the dogs and the puppies. Basically what it all boils down to the housing and condition of them physically," said Lowrance Gibson with the Obion County Humane Society.

Most of the puppies have some of the classic signs of abuse. One even had scald marks from sitting in urine for hours at a time.

Some of the dogs sell for thousands of dollars; french bulldogs, King Charles Spaniels, poodles, and cocker spaniels.

"The dogs basically show they've been in a wire pen environment. They have cuts on their feet, and signs of unsocialization," said Dr. Jon Martin.

Investigators said the dogs were so used to lying and standing in wire cages they got scared when a soft pad was put down for them.

This isn't the first time the people who own the dogs have faced charges.

"Took them to court and unfortunately we got pretrial diversion so it was just a misdemeanor," added Carol Feather with Dyersburg Humane Soceity.

Investigators are hoping tougher animal cruelty laws in Tennessee will make the criminal case they are building lead to a felony conviction this time.

The couple who own the dogs had not yet been charged.

The Gibson Obion County Humane Society needs money and cages for the medium sized dogs. They also need foster homes.

If you would like to foster a dog you can go to the Fairgrounds in Dyersburg on Wednesday beginning at noon and apply. They will ask you for references.

For more information on how you can become a foster parent for one of the puppies click here. (WMCTV)
Email This Post
Like this post? Subscribe to my RSS feed and get loads more!