Past Time to Set Standards for Dog Breeders
Monday, December 1st, 2008 at 9:33 am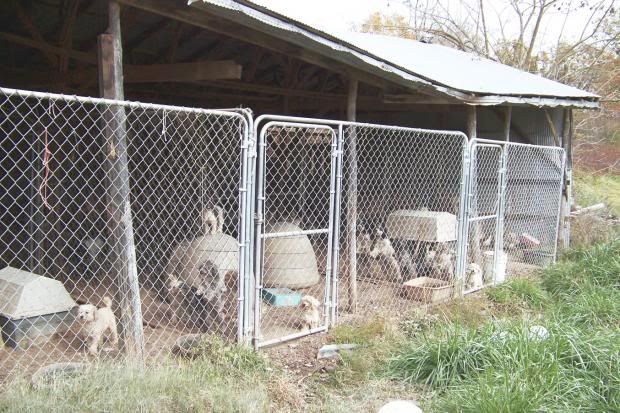 Right now there is no legislation in Oklahoma to oversee dog breeders yet it ranks second in the nation for the number of breeders.  This lack of legal oversight is drawing more and more breeders to the state and many of these breeders take advantage of the lack of oversight.  Many are irresponsible, leaving dogs in deplorable conditions, abused, neglected and uncared for.
There are two recent cases punctuating the dire need for something to be done.  One in Delaware County where about 100 dog were found as well as 10 dead dogs that were being eaten due to starvation.
Another case in Muskogee in which a woman was fund with about 30 dog in her home in deplorable conditions.  One dog had been injured by others and the woman did not seek medical treatment.  The dog had to be euthanized.
Although these two cases may not be typical, no doubt there are more breeders, aka puppy millers, like this but no one is watching, looking or checking on the safety or welfare of the dogs.  And it is only going to get worse unless something is done and done soon.
The Humane Society said it conducted a survey and found that some of those operations fail to maintain sanitary conditions and don't allow breeding dogs much, if any, time outside of cages during their lifetimes.

Last year state Rep. Lee Denney, R-Cushing, proposed minimum standards for breeders. The bill died in committee, but Denney, a veterinarian, says she will submit a bill again this year that proposes to regulate dog breeders who sell 25 or more puppies annually.

Denney's bill should be passed. Breeders, all dog breeders, should be licensed and be expected to treat the animals they profit from with care and dignity. That will require that expectations for breeders be laid out clearly by the state. (Muskogee Phoenix)
All states, not just Oklahoma, need to set standards. Dogs are living, breathing, feeling creatures. They are our companions and friends. I'd like to see all these places shut down but I am not naive enough to think something like that is going to happen, the greed for the green outweights everything else.  But it is not too much to ask for decent, humane, enforcable conditions!
People, no matter where you live, contact your legislators, find out your laws, take action.  Be the voice for those who have no voice of their own.
Email This Post
Like this post? Subscribe to my RSS feed and get loads more!