Paterson, NJ Really Wants this Animal Abuser! VIDEO
Thursday, October 23rd, 2008 at 5:38 am
Early this year, this pregnant, starved, bleeding dog was tied to a fence post of the Paterson, NJ Animal Shelter in sub-freezing temperatures. She gave birth to eight puppies, six of which died and authorities are still looking for the man who so cruelly abused and abandoned this poor dog.
They're not sitting back either. With the help of a witness, the good Samaritan who found her after she was abandoned and stayed by her side until animal control officer John DeCando showed up, they've produced a police sketch and have plastered the face of this waste of human life to a huge billboard on Route 80.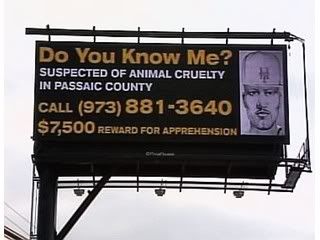 John DeCando, the shelter's director, delivered the puppies after getting a call from a witness who helped the New Jersey State Police with the sketch.

"It gave birth to a total of 10," said DeCando. "Only two survived, the other eight passed away."

Authorities believe the suspect walked to the shelter and more than likely lives in Paterson.

A Ringwood family has adopted the pups' mom, who is recovering. Still, finding the suspect has become DeCando's personal missing. He contacted the state police and they sent over a sketch artist, with hopes of making the public aware of the sad consequences of animal cruelty.

"First time in U.S. history that I know this has been done," he said of the billboard.

There's also a $7,500 reward, of which $5,000 came from an animal lover. The rest came from the U.S. SPCA.

"You know what really worries me is that if this person had done this to an animal, he could very well do it to a child, so we need somebody to come forward and say I know who this person is," said DeCando.

If you recognize the man in the sketch or have information about the case, you can call the Paterson Animal Shelter or the Passaic County SPCA. The suspect could face several years behind bars and a $25,000 fine. (WCBSTV)
No living creature should ever be treated the way this poor dog was treated. If not for the luck and help of a passing good Samaritan, she most likely would not have survived. Help get the word out and get this piece of trash off the streets!
I wish more places and people would take animal abuse as seriously as this because it really is no joke, nothing to make light of. It is a serious crime that is often committed in conjunction with other crimes or can lead to other, even more serious crimes!
Email This Post
Like this post? Subscribe to my RSS feed and get loads more!