Pennsylvania Municipalities Allowed to Pass their Own BSL?
Friday, May 30th, 2008 at 8:24 am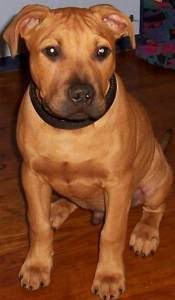 Looks like owners of bully breeds and any other breed that individual municipalities in Pennsylvania deem to be dangerous, may be facing a serious problem if Representative John Galloway has his way.
Currently Pennsylvania has a state law, the "Dog Law", enacted in 1982, which prohibits individual municipalities from enacting their own breed specific legislation: "Those provisions of local ordinances relating to dangerous dogs are hereby abrogated. A local ordinance otherwise dealing with dogs may not prohibit or otherwise limit a specific breed of dog."
But now, Representative John Galloway is introducing legislation to remove that specific language from the
"Dog Law" to allow municipalities to make their own laws regarding breed specific legislation.
"I believe local officials, not the state legislature, know best how to protect residents from dangerous dogs. I have introduced a bill (H.B. 2553) that would allow municipalities to pass their own dangerous dog ordinances and not have them superseded by state law.

In some communities, irresponsible owners of dangerous dogs do not take the necessary steps to ensure that their dogs are kept from running loose throughout the neighborhood. Recently a beagle named Luna was attacked by a pit bull that had wandered out of its yard.

Many municipal officials, including Bristol Borough Council President Ralph DiGuiseppe, have complained that our state's current dog law is too weak and they want the ability to pass their own laws with more bite." (Galloway's Website/Petition)
Although BSL targeting the bully breeds is the most widely known and publicized, it doesn't only affect pitbulls. It can affect any breed that may be deemed dangerous, most notably Rottweilers, Akitas, Chow Chows, Dobermans, German Shepherds, and Mastiffs to name just a few.
What Can You Do?
Contact John Galloway and let him know that the state of Pennsylvania knew what they were doing when they enacted the "Dog Law" and that it is not the breed but the owner.
PA Representative John Galloway
Contact via
contact page on his website
Harrisburg Address:
104 K. Leroy Irvis Office Bldg.
PO Box 202140
Harrisburg, PA 17120-2140
Phone: (717) 787-1292
Fax: (717) 780-4780
District Office Addresses:1 North Wilson Ave.
Suite 6
Bristol, PA 19007
Phone: (215) 781-2451
Fax: (215) 781-3443
8610 New Falls Road
Levittown, PA 19054
Phone: (215) 943-7206
Contact
The Members of the House Agriculture and Rural Affairs Committee HERE. Let them know that you do not support BSL and that it is not an acceptable method of handling problems.

I fully support "Dangerous Dog Laws". As much as I love dogs and am a passionate supporter of their welfare, dangerous dogs do not have any place in our society. Many, if not most, of them can probably be rehabilitate but sadly few people are willing to take the time, effort or money to do so.
Most of the time dangerous dogs are the fault of irresponsible ownership and poor training rather than the breed of the dog. Dangerous dogs come in all breeds and sizes.
Breed Specific Legislation doesn't work. Unlike non-breed specific "Dangerous Dog" laws, BSL targets dogs based on appearance, not actions or temperament. It offers a false sense of security by claiming to target irresponsible owners and criminals. But who do they go after first? Licensed dogs owned by responsible people just like you. Criminals don't license their dogs. Like a stray bullet, BSL hits all the wrong targets, while criminals fly under the radar, or just move on to the next breed.
This is so true! Licensed dogs and their owners are easy to find and target and are usually not the problem. It's owners of dogs that let them run lose, breed indiscriminately, fight, etc. that are the problem. These owners often don't give a damn if their dogs are seized and killed, they'll just get another.
Please, if you care, if you are the owner of a pitbull or other breed often targeted, no matter where you live, it's time to work together and raise your voices. Spread the word. Contact your legislators, representatives, lawmakers and tell them NO to BSL.
Make sure you communications are polite and courteous! Anger only defeats the purpose. Please help!!
Email This Post
Like this post? Subscribe to my RSS feed and get loads more!