People Flock to Adopt Rescued Pine Bluff Kennel Dogs, More Disturbing Details Emerge
Thursday, July 3rd, 2008 at 9:25 am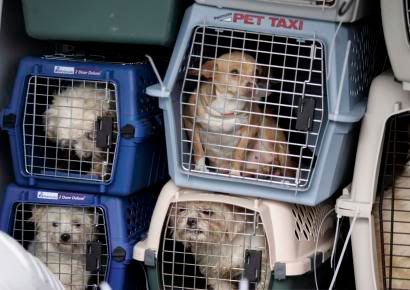 As the dogs and puppies from the recent TN Pine Bluff Kennel puppy mill start to become available for adoption at the shelters, hundreds and hundreds of people are flocking to adopt the small dogs.
At the Atlanta Humane Society, more than 200 people were lined up before the doors even opened to adopt one of the 47 dogs that were available on Tuesday. The rescued dogs were available for adoption for $200. Competition was so fierce that fights broke out and people were actually scalping, selling dogs to those farther back in line for an extra $100.
Many people left sad and empty handed but the remaining 82 dogs will be available for adoption on Saturday and others in several weeks after they've gotten the medical care they need. The Humane Society called police on Tuesday and there will be there again on Saturday for crowd control.
One of the most positive aspects is that people also adopted many of the mix-breed dogs that were also at the shelter looking for homes.
Atlanta Humane Society president Carl Leveridge was happy that momentum from the puppy adoptions carried over to the other 250 dogs and cats at the shelter; by mid-afternoon, 45 of the non-purebreds had been adopted.
"We knew we'd get the little fluffies [from Tennessee] adopted, but we were hoping some of the momentum would be carried over to the mixed breeds," he said.
Broward County Humane Society faced the same thing Tuesday, crowds lined up to adopt rescued puppies.
"It was well over 1,000, maybe 2,000 people," said Cherie Wachter of the Broward County Humane Society. "What's amazing is they still keep coming."
People got frustrated in the chaos and crush.
"I don't want people to feel frustrated. I know it's really busy and we are working as fast as we can," said Maria Zamudio as shelter volunteers were washing animals trying to get them ready for adoption.
As in Atlanta, Broward County Humane Society volunteers and staff reminded everyone that even if they didn't get to adopt one of the dogs brought here from the Tennessee puppy mill, there are dozens of other animals in South Florida shelters who are in need of a loving home.
While all of this is wonderful news for the rescued dogs and it seems there will be no shortage of homes, more disturbing details are emerging about Pine Bluff Kennels and the puppy mill proprietor, Patricia Adkisson.
Investigator Barry Carroll stated that a confidential informant who worked at the kennels told police Adkisson would kill dogs that were old, sick or otherwise "not adoptable."

"Ms. Adkisson has never taken any of these animals to a veterinarian, not even for the purposes of vaccinations required by state law," Carroll wrote in the search warrant. "If any of the dogs received treatment it was given by Ms. Adkisson usually prior to being sold."

The informant told Carroll that Adkisson was trying to obtain drugs from a black market in Australia. The informant said all the animals that died were placed into a bucket inside the puppy kennel where they were left sometimes for days until Adkisson put them in bags and took them to a dump. (WBIR)
I know that investigators are being thorough so that the same thing doesn't happen that happened in 1998, when the charges were overturned but I do hope to be charges filed soon. This woman is one serious POS who has neglect, abused and tortured dogs for years to line her pocket!
Email This Post
Like this post? Subscribe to my RSS feed and get loads more!