Pet Dog Thrown from Overpass – VIDEO
Saturday, March 29th, 2008 at 7:43 am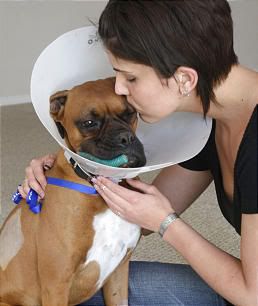 Someone please tell me what kind of a sick person lures someone's pet dog and then throws it from an overpass to the ground, 15′ below?
Well, that's what happened to Haley Savage's one year old boxer, Seven, last Wednesday. Witnesses reported seeing a woman in a red truck or SUV with a rack of some sort on top of the vehicle stop and throw the dog off the 3900 South overpass spanning I-15 in Salt Lake City, UT.
Luckily for Seven, a driver stopped his vehicle and ran after the injured puppy in the busy freeway. Other vehicles also stopped to let him manage to get Seven.
"Here comes a dog cruising down the car pool lane and a man chasing after him," said Monique Latteier, an off-duty Salt Lake police emergency dispatcher and animal lover. "The dog just collapsed almost into the man's arms, she was so exhausted."
After the man managed to get Seven, Latteier offered to take her to a vet for emergency treatment. She was bleeding all over and her jaw was just hanging. At the time she didn't manage to get the good Samaritan's name but credits him with the heroic rescue.
After Latteier got back into her car with Seven, she called some friends at UHP's dispatch center, and that's when she found out other motorists reported the dog had been thrown.

"I was horrified. I am such an animal lover. I can't even really comprehend anyone doing anything to such an animal. I was stunned," she said.

Savage was contacted and went straight to the vet's office.

"I was hysterical," she said.

Seven had blood filling her lungs, a broken rib and a mangled jaw that required the insertion of several pins. She also had four teeth removed and will have to have another surgery in about a month.

"Her jaw split in half. It fractured the whole jaw," Savage said. "It was pretty scary."

Despite the severity of Seven's condition, Savage said she was surprised it wasn't worse, considering what happened.

Savage, who left the door to her home cracked open so Seven could go in and out while she was at work, believes Seven either jumped over the fence surrounding her yard on her own or was coaxed to jump over it. She lives close to the area where Seven was tossed. At some point, Savage believes, someone lured Seven, whether it was before or after she got out of her yard, because at the vet's office she was throwing up a lot of shredded beef, something Savage said she never feeds Seven.

Now she is trying to find out if there is any surveillance tape, either from the freeway or a nearby business, that may have captured the horrific incident.

"It's unfathomable. What kind of person would do this? I didn't think there were people in the world who would do this," said Savage, who was a supporter of the bill recently approved by the Utah Legislature making cruelty to animals a felony offense.

The action has outraged animal rights activists and pet enthusiasts and prompted the Humane Society of Utah to offer a $3,000 reward for information leading to the arrest and conviction of the person responsible. The outpouring of support since the incident has been overwhelming, Savage said.

"A lot more positive has come from it rather than negative," she said.

Enough donations from the public have come in that all of Seven's medical bills should be covered.

"I can't believe it. It's amazing," Savage said of the support.

The Utah Highway Patrol said it had few leads Friday. Anyone with information can call police at 840-4000. (Desert Morning News)
Savage faces the next four weeks caring for the injured dog, feeding him soft food but at least she has him, safe with her now and thankfully alive.
Did you see this happen? Do you have any information about this heartless person who threw this innocent and helpless puppy?
Email This Post
Like this post? Subscribe to my RSS feed and get loads more!