Pitbull Puppy Stabbed with Sword, Woman Attacked – VIDEO
Monday, January 26th, 2009 at 11:31 am
Update 3/5/09 – Sword Attacked Pitbull, Azure, Gets Justice
Update 7/31/09 – Dog Saved By $5k in Donations Now Being Sold
An 8-month-old pitbull puppy, named Azure, is recovering after being brutally attacked and stabbed 7 times with a sword by 26-year-old Justin Carrafield. Erin Lup, Carrafield's 19-year-old live in girlfriend, was also attacked.
It seems the argument started when Lup wanted to take Azure, the pitbull puppy they had purchased together,  with her to her parents' home and Carrafield didn't want her to.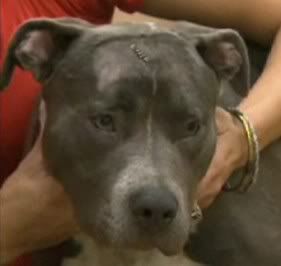 Lup said she knew things were getting out of control after Carrafield downed a bottle of liquor and started fighting with her.
"I had just lost my job as a hostess at Coco's and Justin was really stressed out about money," the Saddleback College student said from her parent's home in Laguna Hills. "He'd been taking depression pills all week. He started choking me and I just wanted to leave with my dog."
Lup was worried about Azure's safety because she said that Carrafield was frequently abusive to the puppy, had kicked and punched her before. She ran to a neighbor's home and called her father to come and get her. She never thought Carrafield would do what he did.
As she waited in the parking lot for her father that's when she found Azure, stumbling around and covered in blood.
"I was crying and freaked out," said Lup. "I couldn't believe he did this."
The police were called and had to forcefully enter the apartment. When they did they found blood on the walls and floor and the apartment "littered with bloodied martial arts weapons." Carrafield was passed out on the bed.
Azure was taken to Alicia Pet Care Center in Mission Viejo on Wednesday where staff did everything necessary to care for the injured puppy. Lup couldn't afford treatment for her puppy so funds for the more than $5,000 in treatment came from Wheaton's Pet Rescue Center which is accepting donations to cover the cost of the treatment.
Carrafield was arrested and charged with animal abuse, domestic violence and cultivating marijuana. He is being held in lieu of $20,000 bail. According to sheriff's spokesman Jim Amormino, Carrafield, a Web designer, has a record that includes burglaries, thefts and assaults.
Far too often you see domestic violence and animal abuse together. The abuser will often take out their anger and aggression on an animal to inflict pain on the spouse or partner, the one they want to really hurt. Carrafield, with a his criminal history and now the abuse needs to be prosecuted to the fullest extent of the law. This is someone who needs to be locked away, away from anyone else he could hurt. Who knows who the victim may be the next time he gets angry and out of hand, another innocent who can't defend themself and who will not be as lucky as Azure and Lup.
Pitbull Puppy Recovering from Brutal Stabbing
Email This Post
Like this post? Subscribe to my RSS feed and get loads more!