Pitbull Systematically Tortured, Man Arrested
Saturday, January 3rd, 2009 at 8:52 am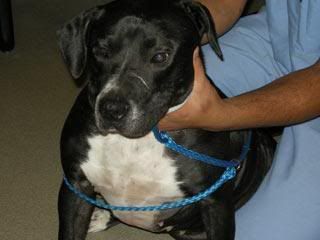 Emma, a 2-year-old pitbull, was adopted as a puppy and has lived her life being systematically tortured and abused by her owner, John Bayliss, 39, of 6 Bayonne Ave., Islip, NY. She's been used as a dart board, had her mouth wired shut and been beaten with metal pipes.
When police arrive at the house that Islip shared with his girlfriend investigating a domestic disturbance, that when allegations of animal abuse also came to light. Authorities removed items from the apartment connected with the torture and abuse including speaker wire, metal game darts, a foot-long metal flashlight, and two metal pipes about an inch in diameter – one 2 feet long, the other 3 feet long.
The removed Emma, a black and white pitbull who has scars on her body from repeated beating and torture, as well as another pitbull, Lexie, who they do not believe had been a victim of abuse. Police were amazed that even after all that Emma had been through as Balyiss' cruel hands, she was still a very sweet dog.
"It was a very, very friendly dog, too, believe it or not," Suffolk County police Lt. James Gruenfelder said. "In spite of all of that."
Bayliss also has a history of violent criminal behavior, he served four year for an assault on his own 18-month-old son in 1997. He also has other convictions including weapons possession and criminal trespass.
Baliss was charged with animal cruelty and third-degree menacing in an unrelated domestic dispute. Bayliss' bail was set at $5,000 and bond at $15,000 at his arraignment Wednesday in First District Court in Central Islip.
He was still at the Suffolk County Jail in Riverhead as of Friday.
Emma was treated at a vet and both she and Lexie are now at the Islip animal shelter and reported to be doing well. It's unlikely that Bayliss will get either of the dogs back.
Looks like we've got another winner here my friends, someone who only thinks he a big man when he beating and abusing those weaker than he is, children, women, animals. I say put him behind bar with some really tough guys and see just how tough he is then, bet he's make someone a really nice girlfriend!
Email This Post
Like this post? Subscribe to my RSS feed and get loads more!