Pitbull Takes Three Bullets Protecting Family from Intruder – VIDEO
Thursday, December 11th, 2008 at 9:12 am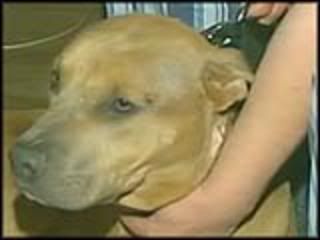 Thanks to a tenacious and loyal pitbull, one Oklahoma City family is safe and sound today.  When an armed intruder broke into the family's home and ordered everyone to the ground, Roberta Trawick says that's when the family's pitbull, D-Boy, charged into action.
The intruder shot the pitbull in the head but he kept going and the intruder fired two more shots.  At least two of the three shots got D-Boy in the head.
"I seen him shoot the dog twice. He shot him once in the head and he was still going after him and the guy shot him again," explains Roberta Trawick.
Despite being shot, the loyal and tenacious dog was still not down.  The intruder then ran off.
When police showed up they took the dog to the vet who treated him and he's since been released back to his family.  This is one hard-headed hero.
The dog's owner, Angelic Shoemaker said, "The vet said if it wasn't for his hard head he wouldn't be here. He's got a hard head."
The police even called the family the next day to check on how D-Boy was doing.
No word yet on the intruder but police are investigation.  The family has no idea who he was or why he broke into their home.  They're just thankful that D-Boy was there to protect them and that even though he was injured, he's back with them and will be just fine.
Way to go D-Boy!! You deserve a big steak or two!
Pitbull Take Three Bullets Protecting Family
Email This Post
Like this post? Subscribe to my RSS feed and get loads more!