Pitbulls Attacked for No Reason
Friday, December 5th, 2008 at 9:52 am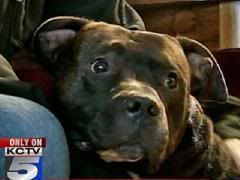 BSL is raging rampant everywhere, pitbulls are portrayed as dangerous, vicious monster dogs but I have yet another story about pitbulls as the victims.  Pitbulls are the largest population in shelters, they are the most euthanized and they are also the most abused 'breed' of dog.  Media hype tends to only portray horror stories.  Dogs bite every day but it seems you mostly only hear about the pitbulls and far too often in bite incidents that the media hypes as pitbull attacks and maulings, pitbulls are not even the culprits.
Now we have a totally unprovoked attack on three pitbulls in Prairie Village, KS.  The pitbulls, Mae and Bear, along with a rescued foster, Zeus, were just sitting in a car, waiting for their owner to finish her shopping and return when a man approached the vehicle.
Luckily for the dogs, this man, who approached the vehicle with a stick in his hand, caught the attention of a woman in the parking lot, Jennifer Bain.  Initially she said, the guy seemed affectionate, reaching in the car to pet the dog but then he attacked them.
"I saw the guy hanging all over the dogs and reaching in their vehicle. And then he began to hit one of them in the face. That's when I stepped out of the car and asked what he was doing, and he told me to mind my own business," Bain said. "I was enraged."
All the dogs were slightly injured, Zeus' nose was scarred and one of the others had blood in her eye from the assault.
The dogs' owners wanted their identities hidden until the case is resolved, but said they can't imagine why anyone would want to hurt their affectionate pack. "They just want love, and flop over and lick you. That's all they want, the attention," one said.

Despite the stereotype some people have of pit bulls being vicious, the dogs' owners said their pets are trusting and love people, and they believe that's why the man didn't get hurt that night.

"They are just so tolerant and obedient and good with kids. Their loyalty they have for their owner is remarkable," one of the dogs' owners said.

HyVee officials released a security tape to police.

The man in the parking lot was arrested and charged with driving under the influence. Police said the case is under investigation and assault charges may still be filed. (KCTV5)
KCTV5, the reporting media, did an excellent and sympathetic job and got the story right. I applaud them.
As for the dogs, they will recover, thanks to a Good Samaritan stepping in, thank you Jennifer.
Gig, a dear friend who passed this story along to me knows these dogs personally and says their worst crime is that they would, if allowed, lick you to death. If they were as dangerous and vicious as so many make the breed out to be, that man who attacked them would be in pieces.
Kelly, the owner of Bear and Mae and foster to Zeus left the following comment:
Thanks to everyone for the moral support, our babies are doing ok now, just a little rattled. I really appreciate the fair and honest reporting by KCTV5. Not many news stations care about the truth, especially when it comes to pit bulls. Zeus is avaliable for adoption and can be seen in the courtesy listings area of the Missouri Pit Bull Rescue and MABBR websites at www.mprgroup.net and www.mabbr.org respectively. Again, a big thanks to everyone that has expressed their concern for Mae, Bear and Zeus. I have faith that the police and Johnson County prosecutor will fully investigate this and do what is necessary.
Email This Post
Like this post? Subscribe to my RSS feed and get loads more!